Before anything else, there are a few things you have to accept. First, you're already in love. There's no point in denying it. Second, you're in love with your best friend's ex—a guy she fell in love with at some point in her life (or maybe is still in love with). Third, someone is bound to get hurt.
Yes, we all know they've already called it quits, but still, there's that unspoken rule that besties shouldn't fall for each other's boyfriends or ex-boyfriends. If you were crushing on the same guy that was totally out of reach for the both of you, it would have been fine. Oh life—always complicating things. Wouldn't it be so much better to have just fallen in love with that guy who sat beside you in class? But no, of all the people in the world, you had to fall in love with that one guy who's supposed to be off limits.
ADVERTISEMENT - CONTINUE READING BELOW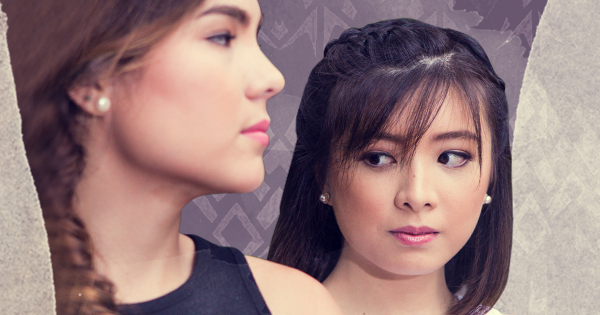 ADVERTISEMENT - CONTINUE READING BELOW
It's terrifying to think of what will happen, but the best thing to do now is to give it some time. Time can help you in so many ways. Though it's unlikely, there may be some off chance that you fell for your best friend's ex because he's just that—your best friend's ex. It's natural for us to want something we can't have. So before you do anything you regret, give yourself some time to think carefully. On the other hand, give yourself the time to move on. It's not easy, but if you feel that this is truly the right thing to do, do it. Think about it this way, if your best friend does find out about your feelings and doesn't take it very well, you end a friendship that could have lasted a very long time. Then what? Are you going to pursue him? What if he doesn't end up liking you back? Or worse, what if he's still in love with your best friend? In the end, it's your loss. If this is not the love you're willing to fight for, don't sacrifice your friendship. It's going to be tough, but you can move on. You're strong that way.
ADVERTISEMENT - CONTINUE READING BELOW
On the contrary, what if you're sure about this guy? Sometimes, we just can't explain it, but we know when he's the one. Aside from the fact that you can't help falling in love with him, you alsowant to be in love with him. Maybe you've already fallen in love with this guy way before your best friend did, but things didn't end your way, so they ended up falling for each other instead. Now that they've parted ways, you feel that this is fate telling you that you're meant to be. Stop. Again, think very carefully. You have to remember that your friendship is at stake here. Things can go very wrong, but then again, they could go so right. Talk to your friend, but don't assume that just because she's your friend, she'll accept things quickly. It won't matter if things are over between them. It's just the way the world goes. Besties aren't supposed to fall for each other's exes. Whoever invented that rule is the cause of your dilemma right now, and it can only lead to two things: Your best friend will feel betrayed, hurt, and if you feel that it's time to think about your own happiness, you'll break things off with her. Or your best friend will tell you it's fine, even when it so obviously is not, and if things go well for you and the guy, you'll end up making things so awkward when you all hang out together. We're not even considering the fact that you might end up being insecure. Because let's face it, they both had feelings for each other in the past, and you might end up distancing your best friend from the guy or vice versa.
ADVERTISEMENT - CONTINUE READING BELOW
I know it's hard. You never wanted to make things so complicated, but love happened. Think about it. Will all of this be worth it in the long run? Because when relationships are broken, things get really messy. You have to weigh your decisions carefully and choose between a shot at true love or a precious friendship.
Got your own story to tell? Drop us an email at candymagazine @gmail.com! We'd love to hear what you have to say. If you're lucky, you just might get published in this space, too! Please indicate if you want to remain anonymous. We're also looking for artwork and illustrations to use with the stories, so please send some in if you want to be featured!