Features
An Art Student's Inspiring Story About Her Battle With Anxiety
"I used to try to hide it."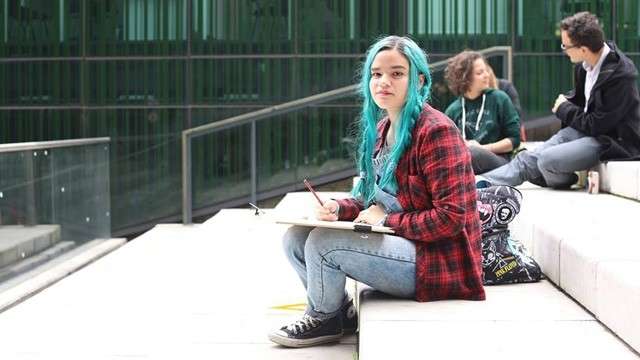 IMAGE Humans of New York
Anyone who has experienced anxiety or panic attacks knows how difficult it is to deal with. And this art student's story featured in Humans of New York's Colombia series is something we could all relate to or learn a thing or two from.
Her panic attacks started when she was in 10th grade. "I was the best student in my high school. I put so much pressure on myself. I never failed a class. But I got sick during 10th grade and I started to fall behind," she said.
She went on to share how her first panic attack felt.
"One day the teacher handed me my grade report, and I couldn't breathe. My heart was beating very fast. I felt disconnected. I saw people trying to talk to me but I couldn't hear them. Eventually I passed out and woke up in the infirmary."
Since then, her panic attacks happened almost every day, to the point where she almost gave up college.
"Last year I started college. And I can't be the best student here no matter how hard I try. Everyone is so talented. My panic attacks got so bad that I had to cancel my first semester."
ADVERTISEMENT - CONTINUE READING BELOW
But she's now working on acknowledging her anxiety.
"I used to try to hide it. I would log off social media. I wouldn't answer calls. I thought that if nobody knew, it didn't exist. But the more I talk about my problem, the more I realize that other people experience similar things. So I'm trying to express it more."
Things are slowly starting to look up and with the help of a teacher, she found a way to channel her attacks into something beneficial for her.
"I had a great teacher who told me: 'Instead of letting anxiety keep you from doing your art, let it be the thing that motivates your art.'"
Read her full story below.
ADVERTISEMENT - CONTINUE READING BELOW
Have you experienced anything like this before?
How much should we rely on them to capture our personalities?
Guys, it wouldn't hurt to add a twist to your go-to look!
Shop with an advocacy in mind!
Is IF advisable for a college student's busy lifestyle?
"Planado na, booked na ang trips."
Share your routines, too!
The next Miss Universe Philippines is said to receive the biggest cash prize in the history of Philippine pageantry.
While there is still a long way to go, it's become so much easier to find like-minded people who share the same cause.
It's a game for those who love to play around and break the rules.
Truth is, you don't need to spend a lot to achieve the feed of your dreams or build your portfolio.
Now's your chance to give back.