Features
Are You Familiar with Your School's Policies on Sexual Harassment?
Here are ADMU, DLSU, UP, and UST's policies on sexual harassment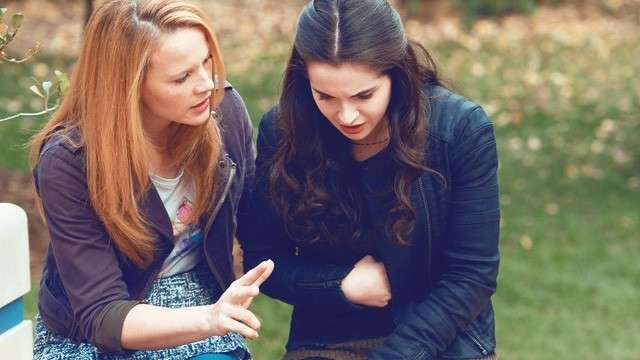 IMAGE ABC Family
We're pretty sure you all know that it's only been a few days since a concerned brother narrated on Facebook a nightmare that unfolded to his younger sister while she was riding a public vehicle on her way home. According to Geo Celestino, his sister who attended UST was sexually harassed by an upperclassman from the same university. This call for help caught the eye of many netizens, garnering over 73,000 reactions, 33,000 shares, and 2,500 comments—many of which offer words of support to the brother and rage towards how the university handled the issue. If you don't know what we're talking about, here's the full post on Facebook:
ADVERTISEMENT - CONTINUE READING BELOW
Sexual harassment is a serious issue, one giant BOO! But we wonder why issues like these continue to happen and are dealt this way, even with The Anti-Sexual Harassment Act of 1995 in place. There's still quite a way to go for victims of sexual harassment (male and female) to feel ready enough to come out with their experiences. And while change is still a long way to go, we want to make sure you are aware when sexual harassment is happening, that you know your rights in your university, and the steps you can take to combat sexual harassment offenders. Below are four sexual harrassment policies from four different universities. 
Ateneo de Manila University
For Ateneo, sexual harassment is a big no-no, as it violates human respect and dignity, as well as the Sexual Harassment Act of 1995.
According to the university student handbook, sexual harassment can be anything from open sexual advances, unwelcome acts of affection, asking or demanding sexual favors (like forced dates, for example) and basically any sexual act for the gratification of the offender. Offenders better beware, (be it school officials, faculty, employees, and even students!) as they will undergo disciplinary action and may even be dismissed when proven guilty.
ADVERTISEMENT - CONTINUE READING BELOW
De La Salle University
Sexual harassment hurts everyone in the community and DLSU takes prevention of sexual harassment seriously as it has a permanent committee that investigates sexual harassment cases and organizes meetings to increase awareness on the issue. Neat, right?
Some examples of sexual harassment in DLSU's student handbook include: attempts at sexual assaults, acts of a sexual nature done on purpose (like touching, brushing, grabbing, pinching, and even poking), unwanted sexual advances or comments (like gestures, "jokes," or commenting about anything sexual to someone who has made it clear that he/she doesn't appreciate that behavior), making life harder for someone to pressure them into giving in to harassment, and much more.
Level of punishments depend on the gravity of the act, but if proven true, sexual harassment offenders will take full responsibility for the crime through reprimands, suspension, and dismissal. While there are protections for these cases, there are also safeguards for malicious accusations to ensure justice is served for all.
ADVERTISEMENT - CONTINUE READING BELOW
University of the Philippines
UP is determined to provide a good environment for their employees and students, which is why it also has a special Anti-Sexual Harassment office that aims to spread information, investigate cases, and provide support to victims.
Apart from following the definitions of the Anti- Sexual Harassment Act of 1995, UP's student handbook mentions that their policy extends to people in peer-to-peer relationships (student to student, faculty to faculty etc.) and not just those in different levels or a top-down approach for those who abuse their power. UP aims to provide support to its members who are victims of harassment, one of which is by investigating and taking on legal and disciplinary actions with the consent of the victim. People who try to retaliate or interfere with the justice process in sexual harassment cases won't be let off easily—disciplinary actions awaits!
University of Santo Tomas
UST has really gotten itself in hot water with how they handled the sexual harassment issue. While UST does cite some provisions of Anti- Sexual Harassment Act of 1995 in their student handbook, they also defined many instances of sexual harassment which include giving favors (more attention, dropping cases, admission and re-admission) in exchange for sexual ones, touching sensitive parts of the body maliciously, sexual threats, sexual assault, persistent sexual jokes or innuendos, showing offensive gestures or pictures, asking personal sexual questions, and other actions that can contribute to an environment of harassment.
ADVERTISEMENT - CONTINUE READING BELOW
Students who have been sexually harassed are encouraged to approach any school official, and the matter will be handled according to the Anti- Sexual Harassment Act of 1995.
While this may not have been a comprehensive guide to university policies, it's important that you school yourselves on your own universities' policies, and that you use your smarts to spread awareness about these policies in your school or community for other people who might find themselves in similar situations and wouldn't know what to do about it.
Let's all support each other to make this world a better place to be in, and that includes standing up for other people who can't stand for themselves. Be the change, Candy girls!
Think of astrology as a language that helps you feel and be seen.
Franki and Diana are this month's Eye Candy.
It's like seeing Seo Dan and Seung-joon all over again!
The internet seems to love his lighthearted humor during these troubling times.
Many of our favorite K-drama actors right now actually started out as idols!
Thailand rethinks its elephant strategy.
Who else wants a basket full of mojos?
We're hoping to see more of these in different LGUs!
Sometimes, no matter how hard you try, some people just won't vibe with you, and that's totally fine.
Have you tried the #ComeAroundMeChallenge?
The cheerleading docu-series is a phenomenon.