This is not a drill. Summit Books just released its first horror book and we're letting you be the first to experience the terror it brings by letting you have a look at its pages! Entitled All That Darkness Allows: 13 Tales of Horror and Dread, the book has an assorment of creepy pictures and equally scary stories by 13 different authors. Click through the gallery below for a sneak peek of the book and scroll down to read an excerpt of "Analemma," a story written by Eliza Victoria.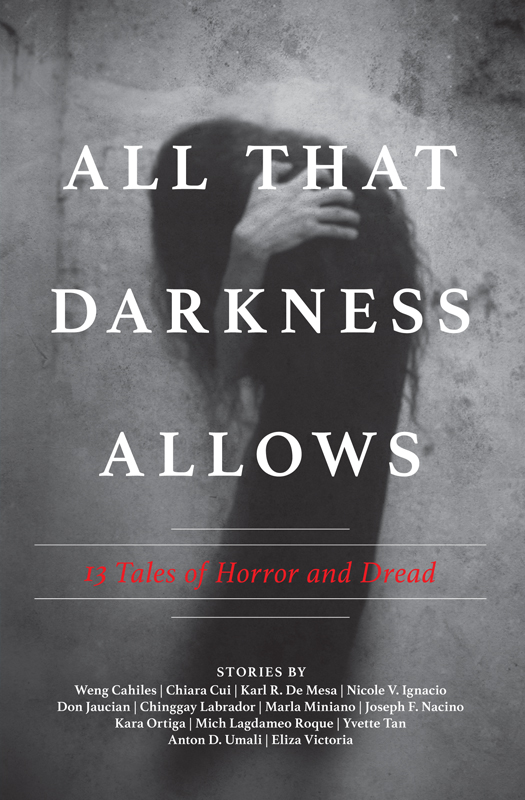 Martin bludgeoned his brother Ian with one of the many painted rocks their mother used as paperweight. There were several witnesses who saw Martin walk out of the house with blood spatters on his shirt, minutes before his brother was discovered in the living room. As of Wednesday, or seven days after the incident, Martin was still at large, having fled after committing the crime. His brother, meanwhile, slipped into a coma and later died from his head injury.
ADVERTISEMENT - CONTINUE READING BELOW
The news reports described their town as "shaken to the core" or "disturbed by this unspeakable crime", but Amaia, who knew Martin from college, was less "shaken" or "disturbed" than "plain old confused". She had his email and his cellphone number, and would often think of contacting him; not to confront him or beg him to surrender, but just to ask why. Kristine, Martin's girlfriend of two years, told her the same thing when they bumped into each other at the wet market. "Why would he do something like this?" Kristine asked her while they lined up at the fish stall, the smell of brine making Amaia think of blood. Based on his own stories, Martin had a great relationship with his brother. But maybe they were all just that— stories, Amaia thought. Maybe there were some stories Martin kept to himself.
That Wednesday night Amaia was home alone, left with fried chicken and several admonishments from her parents to lock all the doors and windows. Amaia locked up the house but did not like the fried chicken, and so she headed to the living room to use the phone and order pasta.
ADVERTISEMENT - CONTINUE READING BELOW
"Thank you for calling Giovanni's," said the agent who answered the phone. "For pick-up or delivery?"
No way was she heading out of the house at 10 PM. "Delivery, please," she replied, and realized that she didn't know what to order yet. "Sorry, can I call you back?"
"Okay, ma'am."
She headed to the kitchen and pulled open some drawers until she found a Giovanni's delivery flyer.
"Creamy pasta with mushrooms, regular, onion soup, large," she recited to herself as she headed back to the living room. She wondered if mushroom and cream could mask the taste of insecticide, and wondered why she would think of such a terrible thing.
She lifted the receiver and pressed Redial. Creamy pasta with mushrooms, regular, onion—
"Hello?"
That wasn't the Giovanni's spiel, Amaia thought. Probably a new girl.
"Hello?"
The person on the other line was getting impatient.
"Hello, is this Giovanni's?"
"Giovanni's?" the woman said. "No. You got the wrong number."
ADVERTISEMENT - CONTINUE READING BELOW
"Suzanne?" Amaia said, recognizing her cousin's voice.
"Who's this?"
"Amaia."
"Are you calling Giovanni's?" She laughed. "How could you possibly misdial their delivery hotline? My house number's digits are completely different." "I don't know what happened," she said. "I just pressed Redial."
And I'm all alone here, she wanted to add, but Suzanne had already hung up. Amaia lowered the receiver and looked around the house, her gaze flitting from her mother's collection of ceramic figurines to their ratty throw pillows to the magazines on the rack under the glass coffee table. She ran to the front door, the windows, the kitchen door at the back. They were all locked. She was just about to run to the second floor when someone knocked on the door.
The knocks were soft, cautious. She wasn't expecting her parents until tomorrow afternoon. She wasn't expecting anyone tonight. Their door didn't have a peephole, so Amaia just stood in front of it and waited.
ADVERTISEMENT - CONTINUE READING BELOW
"Hello?" It was a woman's voice. She sounded familiar. "Amaia?"
Unthinking, Amaia opened the door a crack and said, "Yes, who is it?"
She could see that the woman standing outside had long, black hair, but her face and body were covered in shadows. Amaia didn't find this unnerving. She accepted it the way she accepted that gray clouds meant rain.
The woman didn't reply, but another voice, a man's voice, came from behind her: "Amaia?"
To read the rest of the story, grab a copy of All That Darkness Allows at a bookstore near you for only P250!
For updates and more information, follow Summit Books on Facebook via www.facebook.com/SummitBooks, on Twitter via @SummitBooks, and on Instagram via @summit.books