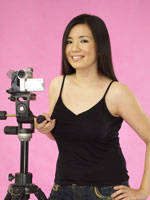 Kat Tan, 21
DIRECTOR
Starting Out:
I passed by a line of shanties along Marikina with lots of bystanders and naked children playing. It sparked a lot of emotions in me and it made me want to translate those emotions onto the screen. I wrote a story, a script, and everything else followed.
The Perks: What I like about being in this field is being able to inspire other girls that they can do the same thing and not be intimidated. It's not about physical strength, it's about being observant and having an open mind.
ADVERTISEMENT - CONTINUE READING BELOW
The Drawbacks: During shoots, there will be times when you won't get enough sleep, and fail to capture a picture or scene exactly the way you planned it.
Support Group: My friends supported me all the way! They always help me out as my actors and production staff, so we really have fun during shoots.
Breaking Stereotypes: In a production group, girls are always given the easier tasks especially when it comes to styling and handling props. So I always try to work as an individual, but I do ask for help when I need it.
All-time High: I was so glad when my first two films competed with other student-made films, and garnered awards and nominations in ceremonies like the Video Open in school.
Expert Advice: Be resourceful! You don't really have to spend on everything you need for the shoot. The video cam I used for my first film was only borrowed from a friend.
Give it a Shot: Call the UP Film Institute at 926-3640 or e-mail them at upfi_workshops@yahoo.com.