Features
A 12-Year-Old Robbed Our House!
What do you do when your home is broken into?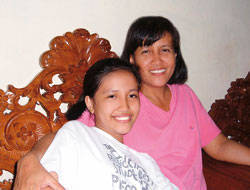 photo courtesy of Lyka Dela Cruz
A few days after New Year's Eve, I was eager to get home from school. I didn't have any chores to do that day, so I knew I could hog the computer. When I arrived, I saw my mom by our gate, talking to our neighbor. She greeted me with a somber expression and said, "Lyka, nanakawan tayo." At first, I didn't believe her. I felt numb and I didn't know what to say. I ran to my room and was shocked at what I saw-my things were scattered across the floor, and my money and cell phone were gone. I rushed into my parents' room and saw my mother's jewelry strewn on the bed. Luckily, the robber didn't take any of my new gadgets or our appliances. All he took were my old phone, some jewelry, and my money.

We called the police and they came to our house to investigate. We found out that the boy entered through the window in my brother's room. He tore the window screen open and jumped right in. Because the hole was a small one, the police suspected that it must have been a small boy who robbed us. My mom told the police that that same morning, she saw a young boy lurking outside our house. When she entered the house, the boy went away. My mom left after lunch, so there was no one at home. That was when the robbery occurred.
ADVERTISEMENT - CONTINUE READING BELOW
CONTINUE READING BELOW
Recommended Videos
The police said there had been a string of robberies in our neighborhood, all with a similar entry point. They knew there could only be one culprit. The police asked my mom to describe the boy and found that her description matched their suspect. We learned that he had been imprisoned before, but he had managed to escape. He was only 12 years old. We also found out that he lives with his family just a few blocks away from my school. A million questions rushed into my mind such as what if he came back to take our things—or worse, to kill me? I couldn't sleep for two days straight and I didn't want to go to school for fear that he might come after me.

A few days later, the cops caught him in a pawnshop with bags of jewelry and money. They immediately sent him to Boys' Town, a place where he can be reformed and hopefully start a new life. I found out that he came from a poor family. Their father left them so he resorted to robbery to earn a living for his family. It's hard to believe that at his age, he was able to steal without fear or doubt. I understood his situation, but I was also angry because what he took meant a lot to us. He destroyed my sense of security and messed up my peace of mind.

I am traumatized by what happened. I'm still afraid of leaving the house without anyone to watch over it. When I hear a strange noise, I go numb and think it might be a robber. I turn on all the lights and the TV, radio, or computer so no one will notice that I'm home alone. We never got back what the boy stole, but that's not important. As time goes by, they will be replaced with better, newer things. I'm just thankful that nobody in my family got hurt-because that's what really matters.
ADVERTISEMENT - CONTINUE READING BELOW
A combination of Snakes and Ladders and Exploding Kittens.
The internet thinks the two are dating.
Plus other things to know about the young actress.
Guess who has a seven-ton rock in their house!
Kris Aquino kind of confirmed that she will be reprising her role as Princess Intan!
It even has a matching vintage-inspired MV!
Now, he's one of the most sought-after photographers in the local creative scene.
No need to step out for your caffeine fix!
Remember when she impersonated Frankie and 'the chicken McDo?'
"I just lost the job that I dearly love."
From The Candy Bulletin Community