Features
These Guys Held a Fake Funeral for a Friend Who Kept Spending Time with GF
Death by babe time!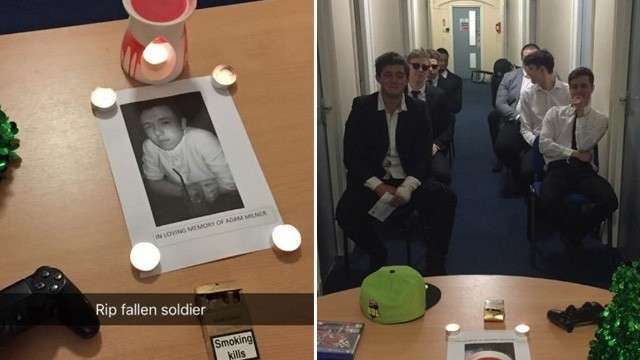 IMAGE Ben Hull | twitter.com/benhull69
Losing a friend to a new relationship is something a lot of girls can relate with. But did you know that guys aren't oblivious to this, too? They just have a different (or creative, you be the judge) way of dealing: a fake funeral!
We've all seen the viral video of Frenchy, a comdeian and YouTuber who held a "funeral" by the cliff overlooking the sea, with five of his best mates (all wearing black) to mourn their friend Tom's passing...to his new girlfriend. It was clearly a skit, but the clip was hilarious. We thought it was the end of it until someone (two groups, in fact) made it happen IRL for the exact same reasons!
If you think holding a fake funeral is nuts, these group of friends took it to a whole other level. After losing their mate Keiran Cable to his girlfriend, a lot of his friends agreed to make him realize that what he's done to his mates was not cool. But instead of just saying it to his face, they thought of a more creative way to get their point across. They made a blue coffin (with the KC initials on it!), rented a hearse, printed out an order of service with their friend's picture in it, and had the road closed for the funeral parade! What's more, their friend agreed to lay in the coffin. Crazy! (via dailymail.co.uk)
ADVERTISEMENT - CONTINUE READING BELOW
The latest casualty to death by babe time is Adam Milner from London, whose friends arranged a table with a few of his favorite things, some candles, and a picture of him, with the words "In Loving Memory of Adam Milner" written below it. (via buzzfeed.com)
ADVERTISEMENT - CONTINUE READING BELOW
They went as far as wearing suits and saying nice things about him (they also sang "Can't Take My Eyes Off of You"), while "See You Again" played in the background. LOL! Watch the video below for proof.
Moral of the story: As much as spending time with the bae is a blast, make sure he has a life outside of your relationship, lest he gets "killed" by his mates.
ADVERTISEMENT - CONTINUE READING BELOW
P.S. We seriously think these guys would make great event organizers! Don't you?
Here's a list of amazing, albeit fictional, personalities from another world that inspire us to be our authentic selves.
I will have to say that it is by far one the best decisions I have made in my whole life.
Isa is part of Candy Rookies 2020, a group of influential and aspirational college students handpicked to represent #GenerationCandy in the year to come.
It's the best time to pick up a new hobby and put those notebooks to use.
We can't handle this breakup!
For days when you need an instant outfit inspo that's still campus-appropriate.
It could very well be one of the world's largest volcanoes.
From consistently badmouthing another friend behind their backs to making snide comments sneakily disguised as compliments, here's how to deal with a tricky friendship.
From sisig to bulalo, the North has a lot to offer.
Even college students like us can apply for freelance creative jobs while we're still going for that diploma!
These simple practices, when done consistently, end up being worth a lot.
It can actually *shatter* your cartilage.