Features
9 Things Only People on Free Data Can Relate To
We hope you have a WiFi connection so you can read this.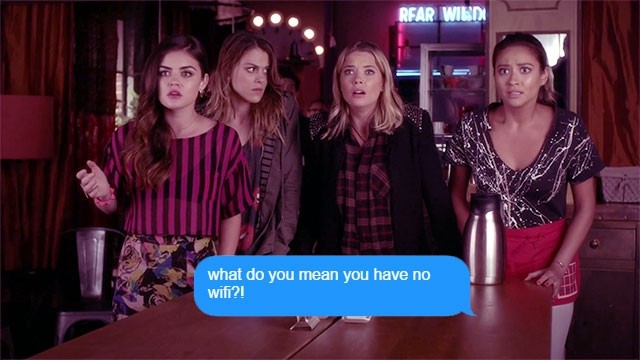 Freeform
We know what it's like not to have the luxury of having unlimited data. Sometimes, you need to save your all-day data splurge for a big Snapchat spree event like Prom Night or your annual school fair. We get it. You have more important things to spend your allowance on like, oh we don't know, your lunch? We know because some of you comment on our book lists on Facebook, "What are the books on this list? Free data here." Presenting all the things that people with free data have to endure. We hope you have a WiFi connection so you can read this.
The only thing worse than not getting a reply from your crush is getting a text notification that "your unlidata subscription has expired." Noooo!

When you're in the middle of a Snapchat convo with your bestie and she just sent you a Snap of her crush and it won't load. OMG why. You'll totally lose best friend status for sure.

ADVERTISEMENT - CONTINUE READING BELOW

When you're 52 weeks deep into your ex's Instagram account and you accidentally like his photo with his new girlfriend. You've been broken up for 3 years now. Of course you run out of data. Perfect timing! HOW DO I UNLIKE THIS?

CONTINUE READING BELOW

Recommended Videos

You're always clueless when it comes to your barkada's plans. "Huh? Who said we were going out tonight?" "It's in our Whatsapp group, ano ba."

You're always the last to know about things. "OMG! Nadine posted a photo of her and James when they became a couple!" "Girl, it's been 10 hours since."

You've gotten good at guessing what an article is about just by reading a headline. This is because your Facebook Lite won't load the images that go with the articles. Is Kylie's new lip kit color... violet? (No.)

Before asking for a menu, the first thing you ask when you go to a restaurant is, "What's your WiFi password?"

ADVERTISEMENT - CONTINUE READING BELOW

You rely on good Samaritans who will reply to your comment with the full article text. "Ano po sabi? Free data here."

The best notification is "There are open WiFi connections detected. Would you like to connect?" Yaaaas!
What other struggles are you dealing with? Share them with us!
Have you ever heard of the *Off-Facebook Activity* tool?
At The British School Manila, students use social media to foster a sense of belonging.
Here's a little throwback that will make your day!
The security issues detected "may have been actively exploited" by hackers.
"No matter how hard we tried to make it work, it wasn't meant to be."
Take your pick from this list of self-care apps and mood trackers.
It's happening in stores and online!
It isn't an easy feat even for the regular students like us.
In case you're curious about what kind of jobs are currently available in the market.
For when you're feeling adventurous.
You can spend Happy Hour watching the sunset!
From The Candy Bulletin Community