Features
7 Ways To Embrace Your Flaws
These gorgeous celebs show us how little it takes to embrace our imperfections.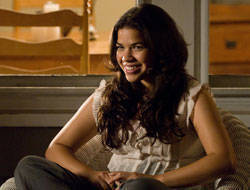 photo courtesy of Warner Bros. Pictures (Sisterhood of the Traveling Pants)
Turn on the television or flip through a couple of magazines, and your self-esteem is bound to collapse like an ice cream cake on a hot summer day. Envy starts poking out its icky green head as you take in Angelina Jolie's luscious lips, Alexis Bledel's enchanting eyes, and Paris Hilton's small size. What's a regular girl to do?
The answer? Love yourself! Yes, it's a cliché, and it's easier said than done, considering you may not have sky-high cheekbones or mile-long legs. But remember, there is no single formula for what is attractive—beauty can come in the most unusual packages. Discover how even the best-looking celebs have flaws and imperfections, and realize that you're at your best when you learn to push aside your insecurities to make room for some long overdue self-lovin'.
Smile for the camera!
When you wake up with a monster zit perched on your nose, don't panic! Resist the urge to pop that huge red spot, and opt for some pimple medicine and a dab of concealer instead. Don't dwell on it: stop touching it, stop thinking about it, stop asking your friends if it's noticeable. Zits are often caused by stress, so believe it or not, the best way to clear up is to cheer up! When your gal pal whips out her camera phone for a spur-of-the-moment barkada pic, don't hide under the table. Show them your biggest smile! There are countless photos of Cameron Diaz sans makeup, and although it's surprising to see that her complexion isn't as creamy as it looks in her movies, her bright smile distracts you from her acne. Flawless skin doesn't necessarily make a girl pretty, and less-than-perfect skin doesn't automatically make someone ugly, either.
ADVERTISEMENT - CONTINUE READING BELOW
CONTINUE READING BELOW
Recommended Videos
Worried your hair isn't shampoo commercial-worthy? Read which celebrities let their big, beautiful hair loose on the next page.

Color coding your notes is also a ~fun~ way to spice your study sessions.
Do you have a favorite student vlogger?
They fit the budget and still do the job.
Mateo graduated high school from the Saint Candida School in Iloilo.
It's a slap in the face when the person who eagerly swept you off your feet suddenly goes floating away.
They've got beauty and brains.
No more need for alt accounts.
Every corner is Instagrammable!
Store the small items scattered on your table in these cute trays!
Here's where you can score this bottled chocolate spread.
From The Candy Bulletin Community