Features
7 Signs You Found Your Soul Sister Expressed in Jane Oineza and Bianca Umali Emojis
You're inseparable and you've figured out everything about each other.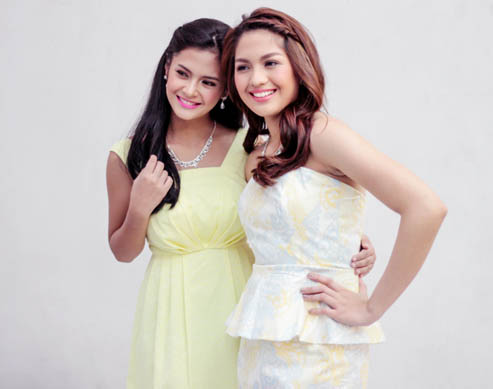 PHOTO Mark Jesalva, GIFs Mark Sangalang
It is a little easy to find your friends, but it's not really easy to find a friend whom you can call your soul sister. Soul sisters are the friends who know you deep down to the core. There's this connection between the two of you that you can't seem to understand. It just works in surprising ways that make you dress up in similar ways or say the same things in the most unexpected of times. Not quite sure whether you found that kind of friend already? Here are seven ways you can tell you have.
You do, say, and wear the same or similar things most of the time. The twinsies emoji is your favorite emoji because you have similar thoughts, ideas, and even fashion choices for every sitch in life. However, in the middle of all your similarities, you don't forget that you both have differences and you welcome that in your sisterhood. Instead of viewing it as a weakness or a flaw in your relationship, you look at it as something that makes your bond more unique.

CONTINUE READING BELOW

Recommended Videos

ADVERTISEMENT - CONTINUE READING BELOW

You get major sepanx when you need to stay away from each other. Even just for a short while or a few distances away, separation anxiety is something inevitable when you go in different directions. But even if you get separated by distance and time, you still have this amazing connection that allows you to pick up where you left off. Even if you haven't talked or seen each other for a few weeks or months, you still know each other deeply that it's like nothing has really changed when you're reunited.

ADVERTISEMENT - CONTINUE READING BELOW

You know the other person is pissed without saying it out loud. Just because you're soul sisters doesn't mean you don't get annoyed at each other. There are days when you argue over the smallest things and you get sick of the other person's present, but you don't have to say that out loud because the slightest change in her tone of voice or the slightest change in her choice of words when you're texting or IM-ing each other send you signals. You know she needs her space and you don't take that against her.

ADVERTISEMENT - CONTINUE READING BELOW

You get hurt when the other person's heartbroken. "I feel ya, girl" is a common line you tell each other, and you don't say that just for the heck of it. You really do feel her pain and her heartaches. You're willing to fight for her if some guy or a mean girl makes her upset. You're willing to stand up for her if she's afraid to do so. Basically, her battles are your battles, too.

ADVERTISEMENT - CONTINUE READING BELOW

You know what's funny just by looking at each other. You have your own inside jokes, which sends the people around you scratching their heads. You know that won't mean anything or may sound silly to any other person in the world, but that makes it more priceless. You also have this same brand of humor and you know what's funny just by looking at each other even if neither of you says a word. It's kind of freaky, actually, how you know each other by heart.

ADVERTISEMENT - CONTINUE READING BELOW

Your soul sister is the exception to the rule of keeping secrets. You have other friends, each of you, so it's inevitable that you know other people's secrets, too. But when they say you have to keep it a secret from anyone, you know that "anyone" doesn't include your soul sister. She has to be the first one to know the latest hot goss and the first person to know all of your secrets.

ADVERTISEMENT - CONTINUE READING BELOW

The thought of living without each other makes both of you cry. Just the thought of living without each other will send you in your bedroom, crying your eyes out. This is why you can't live even one minute getting all mad at your soul sister. It's just unthinkable to delete her from everything in your life because she knows you so well that you're sure she won't judge you with all of your life choices.

ADVERTISEMENT - CONTINUE READING BELOW
How do you know you found your soul sister, Candy Girls? Let us know in the comments or tweet us @candymagdotcom to join the conversation. :)
First of all, you will be laughing so hard with each episode. Surprise!
Some important life lessons...
The frustration is real with these dramas!
They also received an award!
They come in five cool colorways!
Coincidentally, Pink Sweat$ got engaged to girlfriend JL Bunny just a day before.
What's more motivating than "studying" with seven Grammy-nominated superstars?
The university was the first school to apply for the limited face-to-face classes in the country.
From The Candy Bulletin Community