Traffic is a reality we face in the city today whether we are on the way to school, work, gym, or the mall. We spend hours and hours daily just sitting and waiting for the car in front to move, or for that red light to turn green. At times like this, our go-to pastime is our favorite social media accounts. We continuously scroll through our Twitter feed, Instagram feed, and Facebook timeline. At times, we turn to the games on our smartphones, like good old Candy Crush. What we don't realize is that the hours we spend doing trivial things when stuck in traffic can equate to months and months of our lives. Get a jumpstart on productivity, and try staying away from your social media accounts once in a while. Here are 5 things you can try doing next time you are caught in a traffic jam.
1 Improve your problem solving skills!
Exercise your mind while on the road and prepare yourself for tomorrow's big Math exam. There are math-related applications like Khan Academy that allows you to answer math problems on your handheld device. Explanations and tutorial videos can be found online as well. If you are more into mystery problem solving, tons of these are available online, like Murder Mystery.
2 Listen to your favorite novel's Audiobook.
Putting on earphones, and listening to music seems like the norm when stuck in traffic. Try listening to your favorite novel's Audiobook for a change. Compare the difference between reading and hearing a story. This way, you can also avoid getting dizzy while reading in the car.
ADVERTISEMENT - CONTINUE READING BELOW
3 Go online shopping.
Shopping is made easy for us today. Going to the mall is not necessary to buy a new top or grab a new pair of sneakers. There are several of online shopping platforms such as Instagram and Zalora. If you are the brand conscious kind of girl, big brands like Forever21 and H&M have online shopping platforms too. Items bought online are usually shipped to you or distributed via meet-up. When shopping online, always keep in mind your safety.Make sure to check if these sites are legitimate.
4 Learn another language, or sign language!
Ever dreamed of knowing 3, 4, or even 5 different languages? No need to take up a fancy Spanish class, there are several tutorial videos on YouTube. You can even try learning the art of sign language so you can communicate not only with other nationalities, but even those who cannot speak. This could be very rewarding.
5 Become a master chef.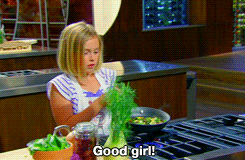 via Buzzfeed.com
There are thousands of easy to learn recipes online. You can learn various food recipes–from baking a cake, to preparing a steak. Give mom, dad, or yaya a break sometime by preparing your family's dinner. Who knows, maybe you can be a true blue master chef, and cook a full course meal for your family during the holidays?
What do you like doing while stuck in traffic? Share it with us below!