A healthy and active lifestyle is a must if you want to get the most of your days. How to do it? Eat healthy, get active, and drink Alaska milk every day! And if you want to support a good cause while you get your necessary exercise, join Alaska IronKids Philippines!
Here are five reasons why it's awesome:
1. Alaska IronKids Philippines supports 'Gatas for Breakfast'.
The Alaska Gatas for Breakfast movement, which kicked-off last June 1 during the Alaska World Milk Day, encourages everyone to start their day right with a nutritious breakfast with Alaska milk. This is Alaska's way in helping fight against the increasing number of overweight and undernourished children in the country.
2. Alaska IronKids participants can run alongside IronMan champs.
Kids will meet and run with IronMan champions Pete Jacobs, Caroline Steffen, Alaska Tri-Aspire Team Coach Matt O'Halloran, and Filipino Elites Banjo Norte and Jenny Guerrero. Soon after, there's 'Alaska IronKids supports Gatas for Breakfast', a milk drinking activity for the students of Mactan Elementary School. IronKids will share a nutritious breakfast with Alaska milk to over 1,500 young students to support the Alaska Gatas for Breakfast movement.
ADVERTISEMENT - CONTINUE READING BELOW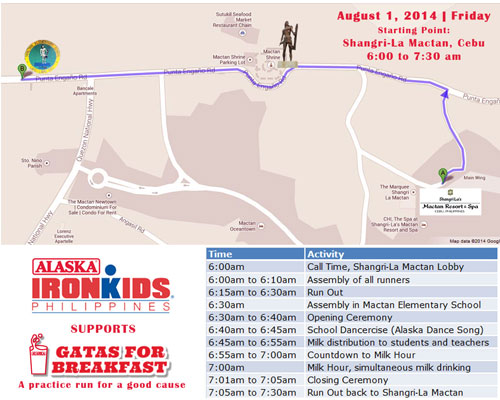 3. Alaska IronKids Philippines is the country's first triathlon event for young people.
Since its first race in 2010, the local triathlon series has groomed young triathletes who have become the pride of the Philippines in international competitions. Being the local junior version, IronMan, Alaska IronKids Philippines has produced young champions who have learned the values of determination, hard work, teamwork, discipline and sportsmanship.
ADVERTISEMENT - CONTINUE READING BELOW
4. Alaska IronKids Philippines Triathlon encourages children 'to go out and play'.
It hopes to get them on the path toward an active and healthy lifestyle that does not only involve physical activity but also proper nutrition, living up to Alaska's key message, Nutrition. Action. Champion.
5. On August 3, young Filipino triathletes will once again race each other in Cebu for this year's highly anticipated Alaska IronKids Triathlon.
Hundreds of children, 6 to 14 years old, have already registered for the annual race. It's open to those who are new to the sport as well as seasoned competitors. Alaska IronKids Philippines has also added the Play Category for this year which gives first time racers a fun racing experience with shorter distances and less pressured time.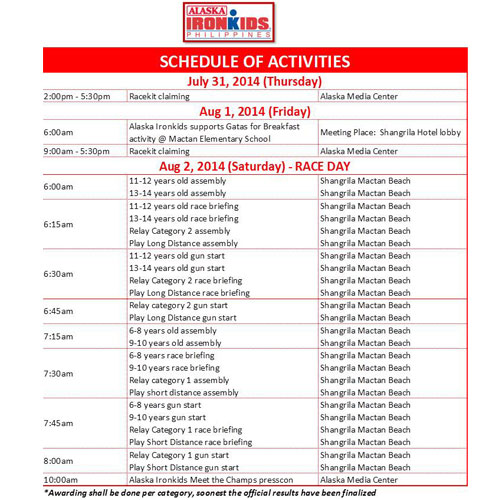 ADVERTISEMENT - CONTINUE READING BELOW
For more information, check out the Alaska IronKids website. For live Twitter updates, follow @ALASKAsportshub or search the following hashtags: #Alaskaironkids #GatasforBreakfast #MilkSelfie.