Features
4 Weeks To Stardom
With our certified four-week plan, you'll be feeling and living like a star in no time!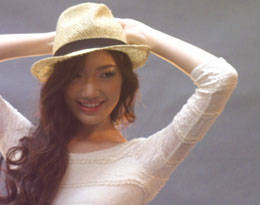 WEEK ONE: Celeb-rate Confidence
Know what looks good on you. Celebrities come in all shapes and sizes from pint-sized Kylie to voluptuous Beyoncé—and they all look beautiful and stylish! The secret isn't in punishing your body to fit into your ideal size but in finding the right size, cut, colors, and styles to flatter your already perfect body. You've got it—no question! So flaunt it, girlfriend!
Be your own publicist. If Britney so much as gets her nails done, you can be sure it'll be frontpage news, fully photographed in the latest US Weekly. Now isn't that winning serve at the intramurals or your excellent performance in the school play much worthier of notice? Broadcast your accomplishments. If you've done an awesome job, why not celebrate it?
Practice your smile. For the sake of future reminiscing, don't be the girl hiding in the back or covering her face in photos. Finding your best angle in the privacy of your bedroom mirror will give you confidence when the flashbulbs come, whether you're posing on schoolyard grass, mall marble, or red carpet.
Try a new fitness trend. A big part of being a star is keeping in stellar shape. If running in place on a treadmill doesn't get your heart pounding with excitement, don't worry. From serene Yogilates to heart-pumping Muay Thai martial arts to weird, waist-whittling Core balance board classes, there's a fun new way to get fit that's, well, fit for you!
Buy quality. Quality doesn't always equal a hefty price tag but it does equal peace of mind that your heels won't break under stress, your pants won't split on the run, and your favorite outfit will last you till your own daughter begs you to let her have it. A great pair of well-made shoes really does make you walk with confidence!
Have a glam photo taken of yourself! Keep it in your wallet, on your phone, or on your bedside table for quick and easy-access to your fabulousness.
Fix up your crib. Celebrity homes, aptly nicknamed "Cribs," are their havens away from the public's prying eyes and the pressure of the spotlight. Make your home base a similarly serene space. De-clutter your room and your mind will be de-cluttered. Light a candle. Make use of relaxing scents. Reserve your bedroom for happy thoughts and resolve your troubles before you settle down to sleep. Even when life gets you down, it's good to know you'll always have a place you can call "Home."
Click on to the next page to read your goals for Week 2.

Looks like the Philippine Philharmonic Orchestra likes Captain Ri's music!
Iced, hot, and frapuccino-style!
Achieve that crunchy Chickenjoy skin.
What if CLOY is really based on a Pinoy teleserye?
Have you tried this internet-famous drink?
The local brand has partnered with charity organization Give PH to help with the donations.
If you're desperate for a cut, YouTube is your best friend.
She recently sang it again during an Instagram Live with husband Taylor Goldsmith!