If you're having a rough time in college, take inspiration from these students who overcame all odds to achieve their dream of holding the diploma they've worked hard to pursue. 
Jireh Bautista, 21, a sapatero's son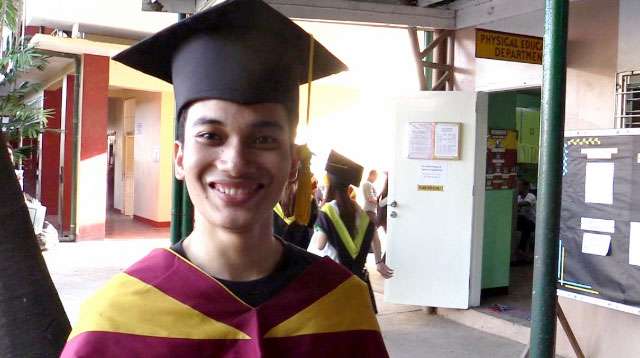 Jireh is proof that poverty is no excuse to give up on getting a proper education. The 21-year-old Computer Science student will finish college at the Cebu Institute of Technology-University (CIT-U) with the highest honors—summa cum laude no less. 

Jireh, son of Pantaleon, a shoe repairman, and Belinda, a homemaker, has always been an achiever. A product of the public school system, he felt financial difficulties affect his studies when he was in high school. He recalled his older sister having to stop going to school to give way to their older brother. Jireh also had to miss school activities that entailed additional cost; this made him decide to focus on his church ministry instead. Faith in God was a sentiment echoed by his father as well. 

Jireh was able to finish because of the scholarships he received from the Department of Science and Technology (DOST), the Cebu City Government, Real Life Foundation of Victory Christian Fellowship, Cebu City National Science High School Batch 1977, and the CIT-U. 

In his graduation speech published by SunStar Cebu, Jireh stressed that while a good education could give one an edge, there is more to life than high grades and school awards. "What truly matters is your life story."

"You might be struggling now with a number of things—school or even financial struggles or your relationships or problems within the family. But what make a great testimony are not literally the achievements but the amazing stories of integrity, of breakthroughs over your struggles and of victories over your hardships," Jireh said.
ADVERTISEMENT - CONTINUE READING BELOW
Regine Villamejor, 20, fisherman's daughter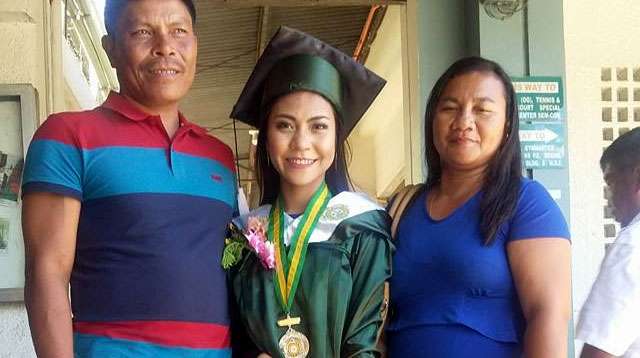 A fisherman and a fish vendor's daughter, Regine couldn't help but shed tears of happiness as she dedicated her diploma and medals to her parents, Raul and Mary Jane. She graduated magna cum laude with a Bachelor of Arts degree in Liberal Arts and Commerce, majoring in Communication and Marketing (LIACOM) at the University of San Jose-Recoletos-Basak Campus in Cebu. 
With the meager income from selling fish, the family made ends meet so Regine can have a college education, something her parents weren't able to achieve. During her sophomore year, Regine underwent surgery for internal hemorrhoids. She kept up with her studies by keeping in touch with her classmates to work on her school projects.

"This [medal] is for my parents. [When I received the medal] I remembered all their sacrifices," the 20-year-old told Inquirer's Cebu Daily News. As she received her diploma, her parents, both high school graduates, couldn't be more proud. Mom Mary Jane cried in disbelief; she never expected Regine to complete college. Dad Raul was genuinely thankful for having a good daughter who recognized their efforts and worked hard to complete her college education.

Her parents left it up to Regine to decide what to do next. One thing is sure, though: Regine will continue to work hard to help her parents provide for the family and her two younger brothers. For the young kids, she shares what kept her on track. "Where there are love and determination, you can never go wrong. Just be optimistic, no matter how complicated the situation may be," she told Pep.ph. 
Joyce Dublin, 30, motorcycle driver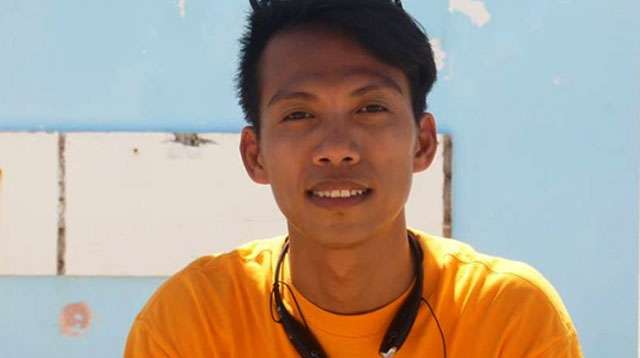 When he was forced to give up schooling for work, Joyce, who graduated valedictorian in high school, had to set aside his dreams of pursuing a college education. He had to work away from his family as a supermarket stockroom checker before deciding to come home and work as a habal-habal (motorcycle) driver. 
His fate changed when he met a passenger who, after admiring his school performance, offered to pay for his education. He took up a Bachelor's degree in Secondary Education, major in Mathematics, at the Cebu Technological University-Daanbatayan Campus. He also got a scholarship from the university. "Discipline is key," Joyce told ABS-CBN News.

Now that his hard work paid off, his next goal is to get a certification as a teacher, his real passion. Joyce equated life's struggles to math problems: it takes hard work and a whole lot of determination to arrive at the right formula for success.

Congratulations, graduates! May your hard work continue to inspire others around you. 
ADVERTISEMENT - CONTINUE READING BELOW
This story originally appeared on Smartparenting.com.ph.
* Minor edits have been made by the Candymag.com editors.