Features
3 Conversation Starters for When You Want to Talk to Your Crush
Aka how to talk to guys and not be awkward about it.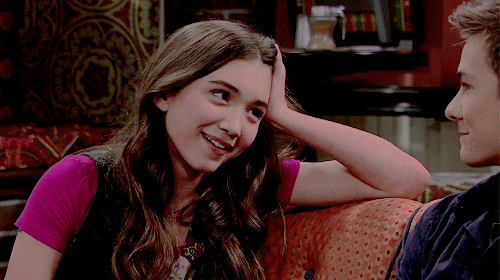 IMAGE Disney Channel
Not sure how to talk to your crush without being awkward or feeling like you're in a cringe-worthy talk show? Start with these easy topics care of Hunter March of Awesomeness TV's #DearHunter.
Mutual interests
Before thoughts like "Is this really happening?" or "Should I look him in the eye? I probably shouldn't. Oh, I just did and I'm screaming internally," start creeping in, make sure to use the oldest and possibly the easiest and most effective trick in the book, first and foremost: find out what your common interests are. It could be school, the internet, an embarrassing moment—anything! Even people who are total polar opposites find something they have in common with each other, so there's no reason you shouldn't.
Movies and TV
Whether you like the same movies or find each other's favorites questionable, you couldn't go wrong with this topic. If he doesn't watch TV, you can easily replace it with fave YouTube channels or apps. Talking about something you like should come naturally to you, so the chances of feeling awkward about this conversation is less likely to happen (unless it's him you can't stop talking about!). 
Something you like
It's uncomfortable enough that you're holding your excitement over the fact that you're talking to your crush, so why make the conversation revolve around his interests (aka the things you're not too familiar with) and struggle with racking your brain for something to say next? We say stop making the conversation everything about him. Instead, casually mention your interests and lead the convo to something you actually like, to make you feel more relaxed. It's a good way to gauge if he is interested, just being nice, or doesn't care at all. Just make sure you don't make everything about you.
Watch the video below to get more tips from Hunter himself.
\\\\\\\\\\\\\\\\\\\\\\\\\\\\\\\\\\\\\\\\\\\\\\\\\\\\\\\\\\\\\\\\\\
Get the latest updates from candy!
subscribe to our newsletter!
////////////////////////////////////////////////////////////////
You know you'll regret it.
You don't even have to leave the house!
From digital art to photography to mixed media, Filipino artists show that creativity is never lost in our people.
Skip a makeup step with these beauty goodies!
Take pretty notes and study effectively with these tips!
Wait for a love like this. A love that is good to you, for you.
Are you up for this challenge?
Can't wait to see the actual gowns!