You have probably heard of people finding love on Bumble, Tinder, and other dating sites. But have you ever heard of someone finding love on Discord? Meet Gene Aguas, a 22-year-old who met her current boyfriend, Nate, through Discord, an online communication platform.  
It all started on a Discord server about F1.
Gene shared how her newfound interest in Formula 1 (F1) made her join a Discord server dedicated to it. This is where she met Nate. At the time, Nate's profile picture was Max, an F1 driver. She initially wanted to message him because, although she did not have a favorite driver at that time, she was leaning towards Max. However, she was shy.  
While Nate's profile picture was not of himself, Gene's was. She shared their first encounter, "I don't know, maybe he found me cute or pretty. He messaged me like the day ata or the next day after I started using Discord, and he messaged me exactly—sabi niya sa 'kin, 'Hi, you look like my future ex-wife.' Tapos parang I was like, grabe naman ito first talk pa lang, gagawin niya na akong future ex-wife, but I think it was his inside joke of saying that he wants me to be his wife. So when I asked him about that, he explained that, oh, I want to marry you, gano'n."
ADVERTISEMENT - CONTINUE READING BELOW
Sometimes when you meet people online, they may have a purpose different from yours. At the start, Gene already clarified any possible misunderstanding that they may have regarding what they can expect from each other. She said, "The very first time we started talking, sabi ko, 'Hey, I don't send nudes,' straight up. I told him straight up that if he asks for nudes, parang FO (friendship over) na tayo. He was like, 'Oh, I'm not interested in that. I'm really interested in you.'"
They're currently in a LDR, but they find ways to make it work.
One of the struggles that couples can face in a long-distance relationship is finding time for their partner. You would have to take into account the time difference, work schedules, and personal commitments that their partner has to deal with. For Gene and Nate, their number one rule in their relationship is to make time and not find the time. They would make sure to set aside time to talk and check in with each other.
ADVERTISEMENT - CONTINUE READING BELOW
Relationships consist of two people. Both partners need to do their part to make their relationship work. Gene said, "That's our promise to each other which is to always make things work, to always meet in the middle. Ayaw din naman namin na laging pabor sa'kin or pabor sa kanya. We always try to meet in the middle."
ADVERTISEMENT - CONTINUE READING BELOW
It also pays to think about what the relationship will be like in the long run.
Aside from putting the work that's needed in a relationship, partners have to ~wholeheartedly~ want the relationship. When Gene and Nate met up in Dubai, she asked him the question, "What will make you break up with me?" He said that if they had to do a long-distance relationship for the rest of their lives. For Gene, she agreed with this answer and said, "It doesn't make sense. Imagine we are 50 years old na and long-distance pa din."
There was a time, however, that she started to get worried that he might want to leave her if he had to wait too long. Although it is in Gene's plan to study medicine in the US, she worries about whether it will push through as she recognizes the difficulty it can entail. This was something she discussed with Nate. She deemed it necessary to know whether he was willing to pursue the relationship even in the event she would have to stay in the Philippines. She explains, "If he doesn't see himself working for this relationship the same way that he does now when I'm going to be here for med school, then I don't think there's a reason for us to be together. I don't want to waste my time." This shows that it is important for both partners to want to work together and desire the same thing for their relationship. If it's only one-sided, then it wouldn't work.  
ADVERTISEMENT - CONTINUE READING BELOW
Two important things that make their LDR work: Trust and communication
Gene stressed that being in a long-distance relationship requires a lot of effort. When asked if she had any tips for people in a similar situation, she shared the importance of having trust and communication in one's relationship. "I think one thing that works the best for both of us is to always think about your partner's feelings, and you have to make sure that both of you will work on the relationship. You have to understand that if it's a long-distance relationship, it's going to take more work in everything, the communication—yung trust, most especially. I feel like trust and communication are basically both the most important things to actually work on if you're doing long-distance."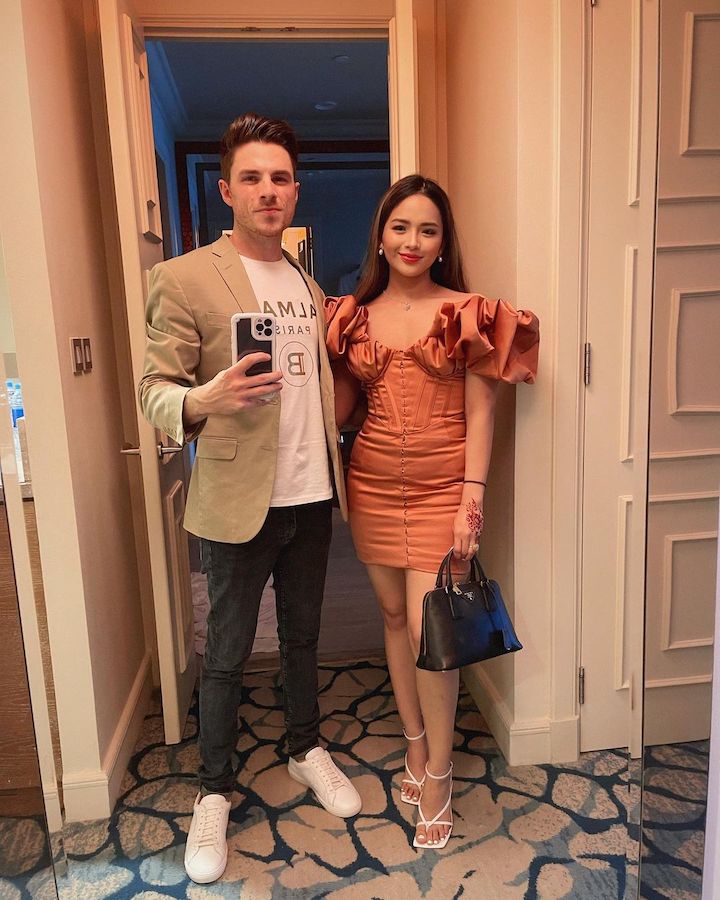 ADVERTISEMENT - CONTINUE READING BELOW
She shared that they were able to establish trust because even beforehand, they made their intentions clear. They would make sure to show each other what they intend for the other. Meanwhile, for communication, as previously mentioned, they make sure that they get to talk to each other. They also have open communication. They can talk to each other about their worries and fears. 
We hear a lot of success stories of meeting someone online, but not all of them endure a long-distance relationship from the start. The love story of Gene and Nate started ~very~ uniquely as they didn't meet in a regular dating app, but through Discord. More than that, their relationship began as a LDR, which meant that majority of their dates were done online. At the end of the day, both of them strive to make their relationship work because they love each other—and maybe that's what matters. 
ADVERTISEMENT - CONTINUE READING BELOW
If you want to see more of their relationship, you can also check out Gene's TikTok account (@gene.aguas). She has some videos talking about their relationship and even their first time meeting in Dubai!
READ MORE:
4 Unique Apps This Pinoy Gen Z Couple Uses To Survive Their LDR
This Pinoy Couple Made an Educational Board Game That's Being Sold Internationally
This Pinoy Couple Recreated the *Cutest* K-Drama Posters for Their Prenup Shoot
How to Take Low-Key Couple Pictures, as Seen on Ida Anduyan's Instagram
#WATCHCANDY: Subscribe to Candy Magazine on YouTube and follow @candymagdotcom on Tiktok for guides to college life and beyond.
Candy is now on Quento! Click here to download the app and enjoy more articles and videos from Candy and your favorite websites!