Indeed, young Filipino artists of today are still undeniably upholding the country's exceptional reputation in the arts by best portraying the Philippine social climate through the reinvention of contemporary arts and design. Although being a successful artist at a young age can make you feel like grasping for straws most of the time, artists like Carissa King can tell you otherwise – providing you a glimmer of hope that anyone can achieve something grand on their own time.
Last July 27 to August 5, 2021, 20-year-old Fine Arts student Carissa King held her first solo art exhibition entitled "Against the Glass Ceiling" at Art Underground Manila. We talked to Carissa about her journey on how she was able to accomplish this venture and her advice on young artists who are also dreamers like her.
The concept behind the "Against the Glass Ceiling" art series:
The whole concept of the "Against the Glass Ceiling" art series revolved around disproving society's unrealistic beauty standards on women. One might say it is akin to the media's concept of the female gaze, centering more on promoting realistic representations of womanhood and femininity instead of oversexualizing them. At first glance, we can see portraits of women displayed in a way they are nonconforming to the conventional semblance pressured onto them constantly. 
Carissa did not shy away from directing her audience to focus on details of the female body that society often overlooks and ridicules. "I wanted to dream big, and so I thought of painting on big canvasses to highlight details and to wrap the eyes of the people who's going to view the paintings and to incorporate that macro-focus realism come to life," she shared.
ADVERTISEMENT - CONTINUE READING BELOW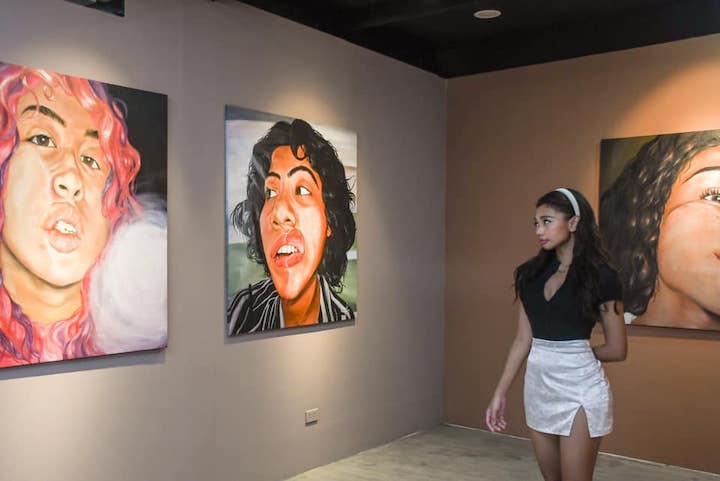 She also explained, "Filipino society focus on women's looks, forgoing [or] rejecting the notion that appearance denotes value to go against the "glass ceiling." The metaphor behind these paintings [is that] women who are put on display, pushing boundaries from the inside creating a sense of power and commotion to the people."
At the age of 17, Carissa started working her way up to achieve her aspirations. 
Apart from manifesting her dreams, she paired it with fervent hard work, starting with working as an intern when she was 17 years old for art galleries such as Nova Gallery Manila. These specific experiences established her motivation to create her own exhibits. She shared, "With that, I experienced how [the] gallery works—attending opening nights and managing social media promotions. I got inspired and got more motivated to start my own series."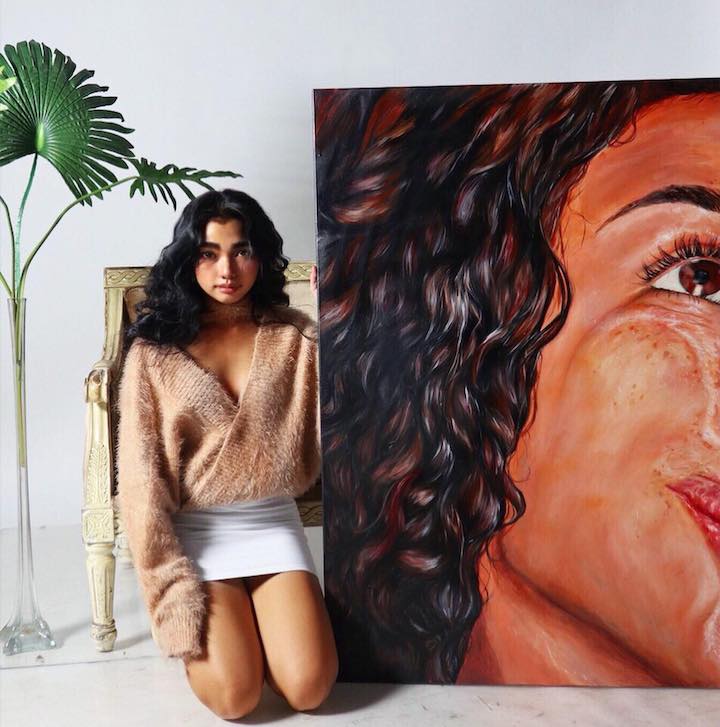 Before her success blossomed, Carissa had encountered difficulties along the way of producing her art exhibit. For more than two years, she simultaneously balanced her time between internships, building her art portfolio, commissions for artists and fashion designers, and academic responsibilities.
"[It] was a little stressful and not that easy. Despite all of that, there's still that feeling of fulfillment after finishing a long overdue painting," she shared. All of these responsibilities helped her expand her skills, which made her land her first exhibit.
Carissa spent about two years applying to various art galleries before receiving approval.
"It was the difficulty of getting into a gallery and applying [or] sending an email for a portfolio proposal," she explained. "I started building up my profile since [I was] 18 [years old], and I just got an approval two years after that. By 20 [years old], I got to have an interview with two galleries which is Nuzen Art Gallery and Art Underground gallery. They gave me an amazing opportunity to have a solo show and be a part of a group show this year," she adds.
Although Carissa's art exhibit was robbed of the opportunity to be visited by the public physically due to the pandemic, her art exhibit still managed to thrive within the virtual community.
Carissa believes being young in the art industry has its advantages.
Young artists are the ones who hold the fresher set of eyes in society. It's no doubt that they perceive and experience the world differently than their seniors, which is why growing artists should not be undervalued due to their lack of professional experiences. More often than not, their innate skills and ideas contribute ingenuity and novelty to the arts, contrary to society's confined expectations of their abilities. Encouraging them with opportunities and mentorship is what will maintain the continued progression of the Philippine art industry.
ADVERTISEMENT - CONTINUE READING BELOW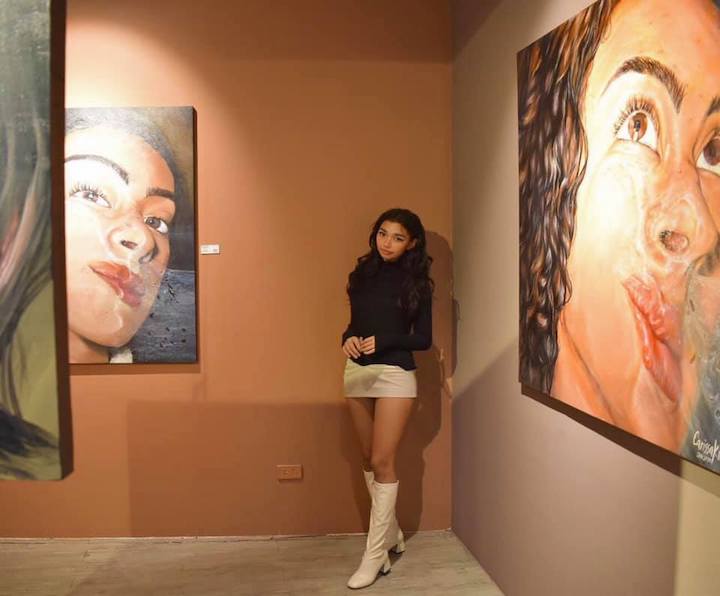 "At a young age you're much more criticized because people would think that when you lack the experience, you also lack the intellectual capacity, but that's not true at all, because at a young age you're being open to a new generation different from those above you or those before you," Carissa shared. "The experience is different, and the timeline is different so there will be comparisons and differences… but what matters is that you were able to create something as a product of your individuality and experience," she adds.
Persistence is what Carissa advises to young artists who also aspire to do greater things.
After a year and a half of hard work, she finally completed her art series and was able to present her feminist advocacy to the public successfully and beautifully. "Keep inspired and motivated by something that fuels up your creative juices. It'll take time for an artist to create something and a lot of things collectively, but it's all going to be worth it if they pour their heart, mind, and soul into it," she shared.
READ MORE:
How This Pinay Went From Being a Chemical Engineering Grad to a Tattoo Artist
7 College Courses Arts & Design Students Can Pursue
Here's How This Pinay Artist Found Work Painting Murals
3 Successful Businesses You Didn't Know Are Owned by Students