Features
20 Questions with Arianna
Go back to October 2003's cover story with Arianna Colamonici!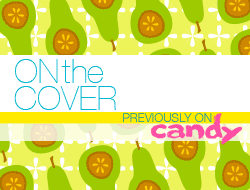 Name: Arianna Jacinto Colamonici
Nickname: Nans
Age: 13
Birthday: May 29, 1990
Zodiac Sign: Gemini
Hobbies: Watching wrestling with my little brother and playing soccer.
TV Show: WWE-World Wrestling Entertainment
Talents: Brother Anthony reveals she's such a fast reader. "My sister can finish a book like Harry Potter in two days." Mom Bea shares her daughter can read minds, but Arianna says, "I'm just really a good guesser especially when I know the person."
Comfort food: Chocolate cake or Mom's yummy scallopini.
Fave celebrity: Avril Lavigne or Blink 182. "I like them because they speak their mind. They don't let anyone put them down-plus their music is really cool."
Three words that best describe Arianna: Bubbly. Sensitive. Sweet.
Fave basketball team: De La Salle University Green Archers
Can't live without: Cell phone, jeans, my brother.


Since this is our grown-up issue, what do you want to be when you grow up?
A model. Definitely a model.
What's the best thing about being young?
Having fun with your friends.
What's one thing you have to try before growing up?
I wanna overcome my fear of heights and go skydiving with my parents. It looks like fun...
What do you love most about yourself?
That I'm a good listener.
What's your biggest dream?
To become famous.
Who's the grown-up you most admire?
My mom. She's a great person. A great friend. And she's always there for you. I wanna be exactly like her.
What's the most grown-up thing you've ever done?
I guess admitting that I was wrong.
What do you look forward to in high school?
Making new friends. Learning more about life. And becoming a better person.
What's the silliest thing you've ever done?
I once drank this thing that my friends and I made in Burger King. It had chocolate sundae, (crushed) fries, tons of ketchup and salt. It tasted really BAD. Hehe.
What's the best advice you've ever received?
To be myself. And never give up.
What was your proudest moment?
When my parents told me how much they love me and how they think I'm the best daughter in the world. It may be simple. But it meant a lot to me.
If you could call up any famous actor in the world, who would it be?
Lalaine (Miranda from Lizzie McGuire)
What would you tell her?
I'd tell her that I think she's way cool. And I totally support her being proud of being PURE Filipino.
If you had just P50 for the day, what would you spend it on?
Food. Definitely food.
What is the coolest thing you own?
My chain (bracelet). It goes with everything. I never take it off.
What's the best thing about being a girl?
Hmm...I'd say...chilling with your girlfriends and SHOPPING. Hehe.
What do you look forward to in the future?
Graduating. Cuz it looks like fun.
If you could be anyone for a day, who would you choose?
I'd be one of my best friends. And see if they're being treated well.
What's the most interesting item we'll find in your room?
A wall full of pictures.
Can you draw your self-portrait?
:)
.~'* GRAB THE MAG! *'~.

ADVERTISEMENT - CONTINUE READING BELOW

CONTINUE READING BELOW

Recommended Videos

Get more of this issue by flipping through your October 2003 issue of Candy!


For back issues, call Loel/Vivian at Filbar's, Inc. 4162459/4139688/7262784
Yup, a million girls would really kill for this job.
They have unique beverages you won't see in most coffee shops.
These organizations strive to raise awareness and initiate change in their various advocacies.
We love the cartoony details!
Here's the story behind FASH.
Time to unwind with 1/2 of the Gaya sa Pelikula love team.
Everyone has gone digital.
She's playing the role of Star Vixen!
I didn't know I needed this until it came out...
They share tips and stories of their ups and downs to motivate you throughout the process.
From The Candy Bulletin Community