Features
15 Things Only Childhood Friends Can Relate To
Because you were the girl who saw me in diapers.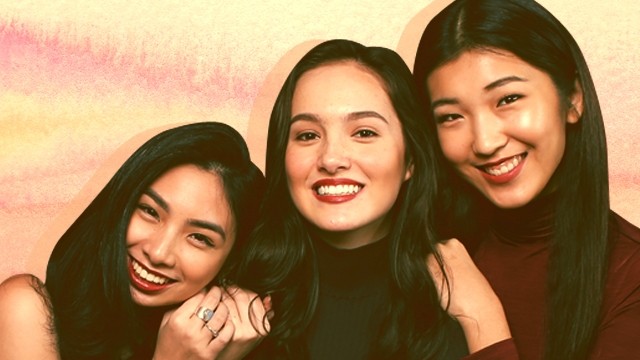 PHOTOS Majoy Siason MAKEUP Sari Campos HAIR Elaine Ganuelas
MODELS Martine Velasco, Siobhan Moylan, Hye Won Jang CLOTHES Forever 21
We all have that one friend that's pretty much like a sister. You've seen each other in diapers and you know pretty much everything about each other, from first crushes to deepest darkest secrets, and most embarrassing moments. You've seen each other grow up and whether or not you're still in touch, no one can ever take their place. You just have a different bond. Below are 15 things you and your childhood friend might just relate to.
1 You have over a thousand nicknames for each other.
Some nicknames you never, ever want to talk about, and some names you accidentally call out because of force of habit.
2 You most probably bathed together as kids.
You didn't see anything wrong with it and it was even kind of fun.
3 You have a million inside jokes and they never get old, no matter how often they're told.
Other people just stare at you with blank faces when you're laughing at these jokes.
ADVERTISEMENT - CONTINUE READING BELOW
4 You have tons of potential blackmail on each other.
From pre-puberty pictures, to home videos that you would never want to see the light of day.
5 You gave each other letters and drawings when you were kids, and kept everything in a shoebox.
CONTINUE READING BELOW
Recommended Videos
Admit it, you still have the friendship box and you look at it from time to time, which makes you emotional.
6 Your barkada name is your names put together.
You thought you were destined to be friends because your names go together. #SquadGoals
7 Your parents are pretty close and every time they see each other, they get emotional about how much you both have grown.
And can get pretty embarassing when done in public.
8 You know how many Barbie dolls each other had.
You would check which dolls you had in common to prepare your dolls for a fashion show or just another day of dress up.
ADVERTISEMENT - CONTINUE READING BELOW
9 You feel possessive when they make new friends.
Simply because you met them first and you don't want to be replaced, the way they can never be replaced in your life.
10 You know the evolution of their crushes and every "codename" you made for these crushes.
11 You were there for every (or most) milestone of each other's lives.
You supported each other through everything.
12 You know the evolution of each other's handwritings.
You know if got fatter or thinner, smaller or bigger, or when it just changed completely.
13 You memorized each other's telephone numbers because you would talk on the phone all night.
You basically did everything on the phone together. You even tried watching a movie together through the phone, and ended falling asleep on each other.
14 You know their whole family and you're basically an extension of their family.
From their mom, dad, sister, brother, grandmother, grandfather, and even their yayas—you know everyone!
ADVERTISEMENT - CONTINUE READING BELOW
15 If your friendship became weird, seeing each other is the most awkward thing ever. But if you've kept in touch, seeing each other again is like winning the lottery!
And there will be a lot shouting and screaming involved.
Can you relate? Let us know in the comments or via Twitter@candymagdotcom. We always love hearing from you. :)
Here's what to watch on Netflix while we patiently wait for "Crazy Rich Asians 2."
In case you can't help but admire the clean and customizable aesthetic of iOS 14.
According to THE's 2021 World University Rankings.
That beautiful crown is the cherry on top of many wonderful things.
Pura Villanueva Kalaw was a beauty queen, suffragist, journalist, and much more.
Color coding your notes is also a ~fun~ way to spice your study sessions.
Do you have a favorite student vlogger?
They fit the budget and still do the job.
Mateo graduated high school from the Saint Candida School in Iloilo.
It's a slap in the face when the person who eagerly swept you off your feet suddenly goes floating away.
From The Candy Bulletin Community