Features
15 Things A Girl Goes Through When Thinking of Going To Prom
It's the most wonderful time of your high school life! Here's how to deal with the eternal "to date or not to date" prom question.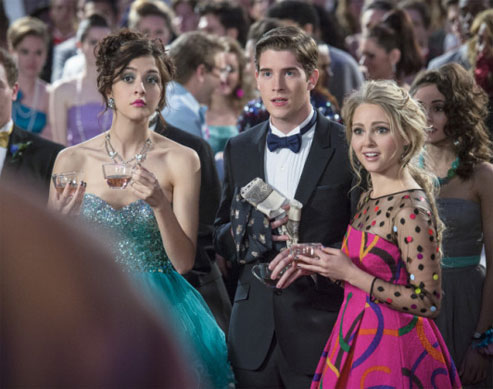 PHOTO The CW
You're probably on the fence about having a date.


via gurl.com

Should you look for a date, should you even have a date? There's no one you'd like to really ask, in particular... And even if you do, you're not sure if it's going to work.

Having a date is being 50% on your way to achieving your dream prom sequence, right?


via do-you-know-where-home-is.tumblr.com

CONTINUE READING BELOW

Recommended Videos

Just like the movies. High School Musical, Harry Potter (the Yule Ball is some sort of a prom, right?), Twilight, the Internet is overflowing with gifs of romantic couples dancing (and almost none with just friends dancing. What is up, Hollywood?!). If you already have someone, that's great! We hope you enjoy your prom.

But if you still have someone just in mind, or you're choosing between options, or you're being asked by many, or you're being set-up by a friend to a blind date, or you're genuinely confused... Ask yourself:

ADVERTISEMENT - CONTINUE READING BELOW

Can you really risk having the worst, most awkward conversations ever?


via yourreactiongifs.tumblr.com

Where the proverbial bird in this GIF is having more fun than you?

ADVERTISEMENT - CONTINUE READING BELOW

Or what if you suddenly realize he has body odor or no sense of humor or not actually interested in spending the night with you?

And you can't rant to anyone because they're all busy dancing.

ADVERTISEMENT - CONTINUE READING BELOW

Or what if being with a date comes with too much extra baggage and drama?

Ohhh boy.

Can you really imagine spending prom being insanely self-conscious?

You can stop touching your hair now, Ariana.

ADVERTISEMENT - CONTINUE READING BELOW

Don't let the need for a date kill the prom vibes.


via lafoliedesreveurs.wordpress.com

We know how important prom can be, in our heart of hearts. So if you go (and we believe you must, at least once), then do it on your own terms. Take it from Kat Stratford from 10 Things I Hate About You.

ADVERTISEMENT - CONTINUE READING BELOW

Decide to have a good time, round up some friends, and go.


via awkward-blog-jenna.tumblr.com

Be the life of the party!

Because when you're with friends:


via i.imgur.com


Can anything even suck?

ADVERTISEMENT - CONTINUE READING BELOW

And come on, high school doesn't last forever.

#Cheesy, but true. "I had so much fun with my friends dancing!" may not sound like an exciting prom story (come on, all your friends are saying versions of that), but it really does make for a great night. And you'll look back with fond and pleasant memories instead of tears and shudders and regret.

ADVERTISEMENT - CONTINUE READING BELOW

So don't get a date just for the sake of having a date.


via buzzfeed.com


If you're going to go with one, you might as well make sure he can ride your version of having fun. Like Jimmy Fallon and Rebel Wilson doing their improv dance competition. (We're not sure how you can beat this tandem, though.)

If not...

ADVERTISEMENT - CONTINUE READING BELOW

Why risk it?


via giphy.com

Or else you'd be doing this the whole night. (And that will positively dry your eyes out. And make it hurt. And you'll be tearing up, but not for reasons people think. And now you have to defend yourself. Oh no.)

Shimmy, babes, shimmy!



via mrwgifs.com

Go do your dance, girlfriend!

ADVERTISEMENT - CONTINUE READING BELOW

Oh, and PS: Don't let what other people say cramp your style.


via wifflegif.com

Date, no date? Who cares? You don't have to defend yourself.

ADVERTISEMENT - CONTINUE READING BELOW

Having a date is not the most important thing at prom—having good, wholesome, memorable fun is.


via tvrecappersanonymous.wordpress.com

Just do your thing and you'll be fine.
Are you going to prom this year? Have you decided whether or not you're going with date? Dish with other Candy Girls in the comments below!
ADVERTISEMENT - CONTINUE READING BELOW
She may not have won the Miss Universe Philippines crown, but she's no doubt a true queen.
Did you know that Miss Universe Philippines 2020 is a licensed physical therapist?
Life is more fast-paced over there.
The actress is already considering her next project.
You can choose from two sets of cast members.
You can check out home decor, too!
The government agency says, "Suicide is a sensitive and complex issue."
Kakamiss manood ng games!
We got to talk to a public school teacher to share how students, teachers, and even parents are dealing with studying from home.
They basically do all the work for you!
He usually makes them during break time.
"It is not only about memorizing laws."
From The Candy Bulletin Community