Features
15 Quotes To Inspire Your Success
Your everyday inspiration for a can-do attitude!
PHOTO Instagram (@calligrafikas)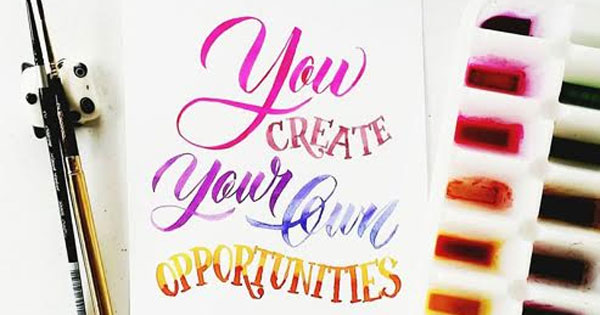 1 I never dreamed about success. I worked for it. — Estee Lauder
The founder and creator of this high-end skin care and makeup brand, Estee Lauder definitely knows what it means to turn dreams into reality, and it begins by taking action.
2 Success is the sum of small efforts repeated day in and day out. —R. Collier
Think about repetition, even goals like staying fit or getting a high mark, its small efforts like choosing fruit over junk food or studying each day that will help you achieve them.
3 You create your own opportunities.
Instead of waiting for luck to come your way, an ideal job or a chance for a better outcome, look at the resources on how you can get to your goal, you can OJT in the company you're eyeing or work part-time under a mentor.
4 Your success is determined by how much you can really learn from your failures.- Joel Brown
ADVERTISEMENT - CONTINUE READING BELOW
Even your idols, fave actors and musicians have all experienced bumps in the road. The key is to turn failure into a stepping stone for improvement.
5 Failure is not the opposite of success, it is part of success. —Arianna Huffington
Remember, your mistakes are opportunities to hone a better you. Don't be afraid to make them.
CONTINUE READING BELOW
Recommended Videos
6 Success isn't about how much money you make, it's about the difference you make in people's lives. —Michelle Obama
Think about the change you can bring to other people and how you can inspire others to take action. If you revolve around a more profound direction, you will achieve true success.
7 You can have results or excuses, not both.
We know Candy Girls would choose the former.
8 Slow progress is better than no progress.
Even if they're baby steps, consider taking action than no action at all. Like an artist who improves his craft over time or simply working out to get fit, progress is still progress.
ADVERTISEMENT - CONTINUE READING BELOW
9 The best way to predict the future is to create it.- Abraham Lincoln
Even if the future is a mystery, you can help shape it with a set of goals and action plans.
Could it be fear or worry? Often times, people discover it's their own self holding them back. So if you do, it's best to remind yourself of your goals and why you started.
11 Be stubborn about your goals but flexible about your methods.
If you keep changing your goals, you'll lose focus. Be firm on your goal but look at several ways on how to achieve it.
12 Do it with passion or not at all.
What's the point if you don't love what you're doing? Take a seat back and check if you're passionate about your goals because success and passion are partners in achieving success.
13 It's not about being the best; it's about being better than you were yesterday.
ADVERTISEMENT - CONTINUE READING BELOW
Don't compare your success with others; your biggest competition is yourself.
14 It's not the load that breaks you down it's the way you carry it. —Lou Holtz
If you take on a positive mindset, you'll be able to see the progress from every fall and obstacle you'll encounter. And that is success in itself.
15 If the plan doesn't work, change the plan but never the goal.
It doesn't matter if you fail the first time, when you're determined to achieve something, it might take more than one try! But if you keep at it, you'll soon realize that goal.
Yup, a million girls would really kill for this job.
They have unique beverages you won't see in most coffee shops.
These organizations strive to raise awareness and initiate change in their various advocacies.
We love the cartoony details!
Here's the story behind FASH.
Time to unwind with 1/2 of the Gaya sa Pelikula love team.
Everyone has gone digital.
She's playing the role of Star Vixen!
I didn't know I needed this until it came out...
They share tips and stories of their ups and downs to motivate you throughout the process.
Bookmark these fashion formulas to make the most of your one-piece swimsuits all year round!
From The Candy Bulletin Community