Features
12 Things Only People Working On Their Thesis Can Relate To
Your thesis-writing experience might just be as dramatic as a telenovela.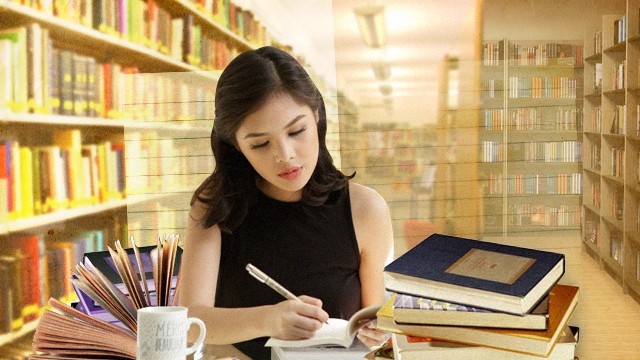 ART Trixie Ison
Some say that nothing can ever truly prepare you for college. Whoever said that must have definitely experienced the gruesome realities of writing their thesis. The sleepless nights, endless draft revisions, and the constant craving for caffeine...it surely sounds like the "survival of the fittest". From choosing your topic, to consulting with your adviser, to actually writing it, and until your final defense, thesis-ing takes up a lot of time and effort, and is surely not for the weak. With this, it's also important to note that college is way different than high school; it's like a bumpy stop along the way before you get to your final destination. You'll be faced with a series of challenges that seem to extend to infinity, and you'll feel hopeless about these obstacles for majority of the time. However, you shouldn't be discouraged just yet. We don't mean to scare you if you're about to embark on your college journey though; it's not all bad things. There's a lot you can gain from the pressure you're faced with, most of which are valuable life lessons you're most likely to use in your future professional life, like time consciousness and responsibility, among many other things. In a way, that's the beauty of college--the good outweighs the bad.
ADVERTISEMENT - CONTINUE READING BELOW
Though not all courses may require it, your thesis can be considered as one of the most important papers you could possibly write in your entire undergraduate life. Writing it is a crucial process that can dictate your future in your chosen field. If you're currently a thesis writer, you'll definitely be able to relate to this list we've created to share some of the strong feelings people doing their thesis experience on a daily basis for the duration of a semester or an entire year. Make sure to hold onto your hats! This is going to be one emotional roller coaster ride.
That feeling of hate when someone asks how your thesis is going.


Seriously, there are far more interesting things than knowing about how little progress I've made.

When you're struggling to find respondents/subjects.


As Justin Bieber would often sing, "WHERE ARE YOU NOW THAT I NEED YOU?"

Losing your sense of time.


What weekend? What day is it even today?

The amount of time (and money) you spend at the nearby cafe.


...and how much you dislike it when someone steals your regular spot. (That's where the power outlet is!)

Naming a file "FINAL"... "FINAL_1, FINAL-ER, FINAL-EST, FINAL-ER THAN THE FINAL-EST."
Here's proof that nothing really is set in stone.

Being an expert at citing resources.


Every paper you write automatically contains sources, even when not needed.

Summoning all thesis gods before working.


My faith is strong that I will complete this chapter tonight. *insert chant here*

Binge drinking, eating, sleeping…


Carbo-loading is also essential in thesis-writing.

That feeling of gratification when you can finally sleep.


...and not wanting to leave your bed 10 minutes, an hour, or the morning after.

Overanalyzing.


This is only the make-or-break point of my years in college...no big deal, right? Riiiiiight? *hyperventilates*

Having to save your files on your desktop, laptop, USB, hard drive, e-mail, Dropbox, etc.


You can never be too sure.

Finally being done with it.


I'm ready to adult!
Think we missed something on this list? Leave a message or tweet us @candymagdotcom!
A lot of them are apps we haven't heard of before.
We're sure you've seen portraits on your feed.
Some good news to start your day off!
It includes Lee Min-ho's TV comeback!
Meanwhile, the number of confirmed cases in the Philippines is at 2,633.
It's okay to admit if you're having a hard time doing the one thing you thought you were good at.
All the outfits and props were just things found around their house!
"You wish to know where my true loyalties lie? Not with any king or queen, but with the people."
Kayang-kaya niyo 'to gawin at home.
And it's all thanks to low air and light pollution.
It's part of a dashboard that helps you monitor all the confirmed cases in the country.
With a load of cute behind-the-scenes footage, too!