Features
10 Things To Add To Your Travel Bucket List This 2015
Want to make your trip memorable but don't have a clue on how to? Here are 10 tips that can help you!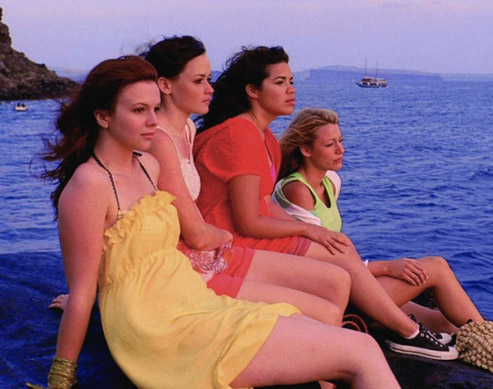 PHOTOS Warner Brothers Entertainment
Traveling when you have a list of goals to achieve can be so much more fulfilling than just going with the flow. Imagine being able to finish that list by the end of your trip? We've got the perfect tips are here to help you create a more fun and unforgettable adventure for you, your family, and your besties this year! So go ahead, scroll down, take notes, and pack that bag right away!
Don't join a tour.
Set your own schedule. It would be better if you were focused on what you'd really want to do based on your own interests. Instead of following an itinerary that has already been made for you, it would be better if you do your own research so that you won't waste time. It's not everyday that you're in a different country!


via Giphy.com

ADVERTISEMENT - CONTINUE READING BELOW

CONTINUE READING BELOW

Recommended Videos

Try the different activities they offer.
From zip lining from mountain to mountain to bungee jumping off a cliff, there's nothing you can't do! No matter how crazy it might sound, it's the best time for you to face your fears whenever you're abroad, this also includes joining local festivals. You might just stumble upon a festival just like the one in Spain called La Tomatina which is known to be the "world's biggest food fight!" Each country has its own set of festivals, so you'll never know what to expect!


via Giphy.com

ADVERTISEMENT - CONTINUE READING BELOW

Look for remote areas or hidden gems within your destination.
Aside from checking out what the place is known for, it would be better for you to explore it for what is isn't. There is more to a country than what meets the eye.


via Giphy.com

Interact with the locals.


Try to learn their native language. Don't settle for merely asking them for directions–you'll never know what you'll be able to find out. The benefit here is that once you'll be able to befriend a local, your trip will be ten times better. You'll be given countless tips on where to go for all the best places.




via Giphy.com

ADVERTISEMENT - CONTINUE READING BELOW

Travel cheap.


It's not so much about saving money , as it is being able to live the life of a local. From the way they get from one destination to the next, as well as the places where they eat. Although this may take a lot of walking, the things you'll discover will make it worth it.




via Giphy.com

ADVERTISEMENT - CONTINUE READING BELOW

Try local dishes.


They might not taste the best and can be quite odd but food will always say a lot about a country's culture. It's always good to step out of your comfort zone especially when it comes to food! One of the great things about traveling abroad is being able to eat local dishes, which is why it is best not to miss out!




via Giphy.com

ADVERTISEMENT - CONTINUE READING BELOW

Keep a journal.
Aside from constantly taking pictures with your camera, try to write down all the things you experiences as elaborately as you can instead. Write about what you've seen that day, the people you met, the scenery, as well as the things you were able to do. After your whole trip, the feeling after you go through your finished journal will be priceless.


via Giphy.com

ADVERTISEMENT - CONTINUE READING BELOW

Keep your souvenirs.


Instead of buying items off the usual gift shops, keep the little things that count. A museum ticket or a free postcard, those things will matter the most in the end of your travels.



Go on a road trip with no predetermined destination.
It's one thing too be in a country you're not from and its definitely another to go on a road trip not knowing where you're going! They say that the journey is the destination-this is definitely true in this case where you'll be seeing so much things you didnt expect to discover!


via Giphy.com

ADVERTISEMENT - CONTINUE READING BELOW

Fall in love.
Not necessarily with someone you meet but rather, the place you're in. When you're back home and you catch yourself daydreaming, wanting go back to that country, that's how you'll know that you fell in love with it.


via Giphy.com

What other things are you planning to include in your travel bucket list? Share your thoughts and comments with us below or tweet us at @candymagdotcom.

ADVERTISEMENT - CONTINUE READING BELOW
The project is said to be pushing through in 2021.
Tthe Kapuso star also recently ventured into video game streaming.
The twins also disclosed that Mavy is the "boy version" of Carmina, while Cassy is the "girl version" of Zoren.
Acting is just one of the many things she has to offer.
Looking for the perfect Christmas gift?
Alden is using his quarantine hobby for a good cause.
Before becoming the actress that she is now, Anya Taylor-Joy started out as a model.
Honestly, are you even surprised?
"I still failed so many more times after that, but I kept going."
UP placed 69th, beating out over 600 other universities in Asia.
From The Candy Bulletin Community