Features
10 Struggles of People Who Are Always Hungry
Where's the food?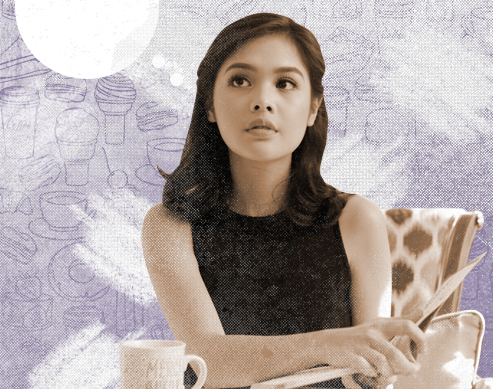 PHOTO Mark Jesalva ART Trixie Ison MAKEUP Angie Cruz for Shu Uemura
HAIR Eddiemar Cabiltes MODEL Bea Marin
There are those who eat to live, and then there are those who live to eat. And you thought being part of the latter is always so fun? No, it's not. When you're always craving for something, every minute of every day is a struggle. We honestly thought that only a few can get how we're feeling, but when we found the hashtag #GrowingUpHungry on Twitter, we knew we weren't alone. Read a few of the struggles of people who grew up always feeling hungry and check which ones you can totally relate to.
1 You're always torn between hunger and laziness.
Im hungry but I dont want to cook . #growinguphungry

— Aida Jr. (@AidaFaziela) August 19, 2015
2 You're always feeling sleepy because you ate a little too much.
#GrowingUpHungry pic.twitter.com/AURd96Tkby

— ✿Nicky Clifford✿ (@Niki_1D_4ever) August 13, 2015
3 You bring way too much food when you swore you'd only be getting a bag of chips.
#growinguphungry goin to get a snack && comin back w the whole kitchen.😂😭🍍🍭🍟🍤🍜🍝🍗🍘🍒🍎

— gabby♈️ (@babygirlgh) August 2, 2015
READ: #GrowingUpShy: 10 Things Only Shy Girls Will Understand
4 Your tummy always thinks that it's never eaten enough food.
I ate good today, I drank good today yet my stomach still making noises like a whale #growinguphungry

— Angie (@Pftidc) July 26, 2015
5 You're so tired of hearing these lines over and over again.
ADVERTISEMENT - CONTINUE READING BELOW
#GrowingUpHungry "you're still hungry?" "You're hungry again" "where do you put it all?"

— Nessa.♡ (@BabyAnyssia) July 21, 2015
6 You wonder how many meals you should eat in one day just so you can call it a day.
#GrowingUpHungry 10 meals a day just wouldn't cut it

— DHope (@davidhope2397) July 20, 2015
7 You should always, always eat something in between classes.
#GrowingUpHungry ALWAYS PACKIN SNACKS FOR EVERY CLASS 😰😰😰

— BigBERTHA (@ODKUNT) July 15, 2015
8 You find yourself in this situation all the time:
#GrowingUpHungry Friend's parent: you want somethin to drink ? Me: yes please, you got some food too ? https://t.co/ZrZWkXp2C9

— ɮօռռɨɛ♋ (@queen_minnieee) July 27, 2015
9 Or in this one:
#GrowingUpHungry you had to wait for everyone to go to sleep to get that last piece of chicken

— AaronPaul (@Tan_meleon) July 15, 2015
10 And lastly, in this one:
#GrowingUpHungry you eat anything

— YUNGSAVAGE400 (@CrimBSM400) August 17, 2015
READ: #GrowingUpWithSiblings: The 10 Struggles You've Been Through
Know more hashtags we should feature on the site? Let us know in the comments or via Twitter @candymagdotcom. :)
Aside from electricity and water, here are some essential subscription services you can divide among you and your dormmates.
#TalaNation on a different level!
Showing vulnerability doesn't make you less independent.
I was young, supposedly halfway through my first college degree, working several side hustles to pay the bills with zero savings.
You don't have to splurge a lot on an expensive model for its high-quality camera to get started with vlogging.
Straight from Lana Condor and Noah Centineo, no biggie!
Just like in your darkest times, your college friends were there with you during the best days of your life.
Pasig City government aims to allow more scholars to have free tuition and higher incentives.
The last remaining speakers of a dying language wanted help to preserve their heritage.
The Big Bad Wold Book Sale is back for its third year!
Unti-unti ka na ngang nakaka-move on, nagkakapera ka pa.