Features
10 Things Only the Middle Child Can Relate To
TFW people forget you actually exist.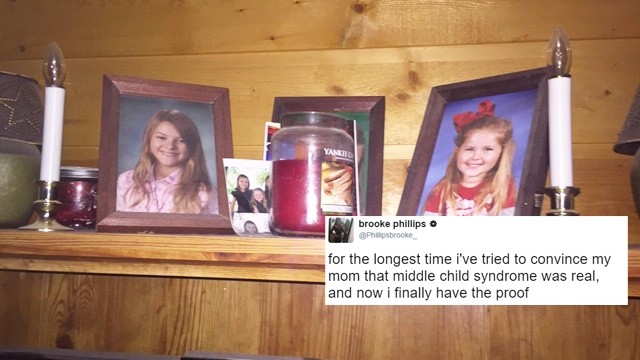 IMAGE Brooke Phillips | twitter.com/Phillipsbrooke_
Some people call it the middle child syndrome. Us? We know it's just the way things are. Heh. Don't get us wrong; we're happy most of the time. It's just that there are moments when we can't help but ask WHYYY because of these struggles.
People actually forget that we exist sometimes.
Your dad loves spending time with your kuya/ate because he has to teach them the ~~**responsibilities**~~ of being the authority when the 'rents ain't around. Your mom loves your youngest sib because s/he's such a baby. And you? Uhm, you're just there. Inside your room. Spending some alone time. LOL!
ADVERTISEMENT - CONTINUE READING BELOW
CONTINUE READING BELOW
Recommended Videos
You're a survivor.
Usually because you're left to figure out things on your own. See item #1.
You get jealz sometimes of your siblings...well, sometimes it's most of the time. Teehee!
There are just moments when you can't help but wonder about a lot of things...like why this is the situation you're in.
ADVERTISEMENT - CONTINUE READING BELOW
You get most of the hand-me-downs.
Because of your older sib. But by the time you're supposed to hand it down to your bunso, it's too old to bury at the back of your closet. WHYYYY?
You always find yourself being the mediator between your siblings...
That or you're the target.
ADVERTISEMENT - CONTINUE READING BELOW
You get creative.
Because you have to get your parents' attention most of the time, you get creative with how you do it. How? Through your awesome personality. Ya$$$!
You feel lost most of the time.
Your older sib can get away with most things because s/he's an expert, while your parents won't let your younger sib take responsibility for their mistakes. Where does that leave you? Lost, that's where because you don't really know what you can get away with and what you need to take responsibility for.
ADVERTISEMENT - CONTINUE READING BELOW
People expected you to always be "kind" to your siblings. 
They tell you to let your kuya/ate go first because they're older. Aaand they tell you to let your younger sib go first because they're younger. WHAT ABOUT ME, YOU GUYS?
The best part? You can get away with anything.
Coz you're not the center of attention. Sneaky, sneaky.
ADVERTISEMENT - CONTINUE READING BELOW
But in the end, you're just thankful to end up being the middle child.
Because you realize being the middle child made you the strong, independent, and fearless individual you are now.
Alden is using his quarantine hobby for a good cause.
Before becoming the actress that she is now, Anya Taylor-Joy started out as a model.
Honestly, are you even surprised?
"I still failed so many more times after that, but I kept going."
UP placed 69th, beating out over 600 other universities in Asia.
Plus loads of Korean content!
Yup, the award-winning Filipino chocolate brand!
Remember Tiffany Grace Uy?
You can still donate to the cause.
He was a topnotcher, not once, but twice.
This means a grade of "4" or "5" shall not be given, according to the UP Office of the Student Regent.
From The Candy Bulletin Community