Features
10 Things Only Long Distance Best Friends Will Understand
Don't you wish she was right here beside you while you're reading this?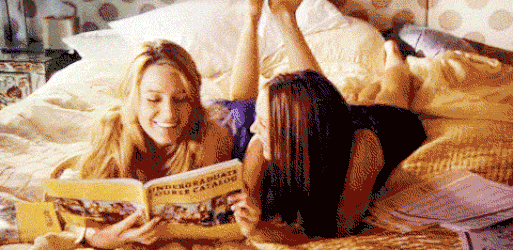 IMAGE The CW/Giphy
Long distance relationships are hard and when we say relationships, we also mean friendships. Having a best friend who lives miles and miles away from you is just as painful as having a boyfriend who's not around. Below, we listed down a few struggles only long distance BFFs will understand.
1. Your messages are just made up of I Miss Yous most of the time.
And it sucks because you can't do anything about your feelings or the distance. It's not like you can buy tickets to Dubai or Japan in a heartbeat.
2. Viber, Skype, Facetime, iMessage, and all those messaging apps are your best friends. 
Can you imagine what it's like to have a best friend living abroad and resorting to snail mail to bridge the gap between the two of you? #blessed
ADVERTISEMENT - CONTINUE READING BELOW
3. But still, these messaging apps aren't enough to replace the feeling of actually being beside your best friend.
Especially when you're both having it hard and the only person you want to talk to is your BFF.
4. You can't help but feel #JEALZ when you see her updates on social media about her newfound friends.
Whatever, bet they don't know her as well as you do.
5. One of your worst enemies? Delivery rates.
You want to send your best friend a package during her birthday or Christmas, but the rates are just too expensive for your student allowance.
6. You joke about each other's misspelled words and weird sentences all the time.
LOL, the time difference makes you both so sleepy that your fingers decided to have their own lives and type whatever it is they feel like telling your best friend.
7. Calls are short because of the time difference... and the expensive call rates.
But when you start talking, you make sure to give her a run through of all the good parts and the juicy details. Of course.
ADVERTISEMENT - CONTINUE READING BELOW
8. When your best friend comes home for a few days or a few weeks, you build your schedule around hers.
There even comes a point when you try to put your life on hold for a few days because you need to spend time together, just you two.
9. Your fights and arguments are sometimes because of the fact that one of you forgot to reply to a message or answer a call.
You try to stay strong and let your pride get the best of you, but there comes a point when you're missing your best friend so much that you just need to talk to her.
10. It's been a while since you've seen each other and talked to each other in person, but when the conversation starts, it's like you've never even separated.
Nothing has changed, you're still best friends. Forever.
We rounded up some simple reminders that might help you get through this hectic week.
PSA: They're all REALLY CUTE.
Note to self: You having a hard time does not equate to you being less smart.
"You suddenly or sometimes won't feel so smart anymore."
Constant cups of coffee, panic attacks before exams, eyebags for days, and tons of memes about stress. Sound familiar?
If it's something you've meticulously mulled over and thought long and hard about, then you're not marupok because of it.
Trade in your old iPhone for the iPhone 11!
As part of the #BreakTheStigma campaign, mental health experts and advocates say there is nothing wrong with asking for and needing help.
Carlie Hanson is definitely someone to watch for!
Because coffee is LIFE, no matter where you are.
Contrary to popular belief, it's rare for people to find the "perfect" first job!