Features
10 Things I Learned From Mean Girls
Whether you're in high school, graduating college, or even entering your 40s, Mean Girls has changed your life one way or another.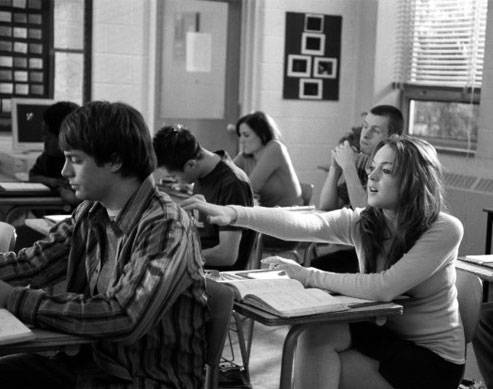 PHOTO Paramount Pictures, GIFs Tumblr
Ex-boyfriends are off limits. No if and buts. :)


via younghollywoodcelebs.tumblr.com

A person's hair can totally be insured for $10,000. Maybe because her hair's big and hair only gets big because of secrets, duh.


via meangirlsgifs.tumblr.com

Don't think you're that great at anything? Figure out how to forecast the weather with your breasts. It's actually considered a very marketable skill, go figure.


via zacharywhorris.tumblr.com

Having sex will get you pregnant. And then you die. Just plain science, my friend.


via gifemotions.tumblr.com

Taco Bell is just an absolute no-no when you're on an all-carb diet. Or just skip Taco Bell for the whole entirety of your life if you want to lose a pound or three. Gosh, don't be so stupid!


via gifemotions.tumblr.com

Don't make out with your cousin. Whether it's your first cousin, second cousin, or third, just don't go for your cousins in general.

Kalteen bars make you gain weight like crazy. Don't believe anyone who tells you otherwise.

Brutus is just as cute as Caesar. Brutus is just as smart as Caesar, people totally like Brutus just as much as they like Caesar. Rome is not about having only one person be the boss of everybody.

Yes, butter is a carb.

Surprise! Not all people from Africa are black. Oh, and you can never ask they're white either. The most duh-worthy of all the rules.
Happy 10th Mean Girls Anniversary, Candy Girls!
\\\\\\\\\\\\\\\\\\\\\\\\\\\\\\\\\\\\\\\\\\\\\\\\\\\\\\\\\\\\\\\\\\
Get the latest updates from candy!
subscribe to our newsletter!
////////////////////////////////////////////////////////////////
Skip a makeup step with these beauty goodies!
Take pretty notes and study effectively with these tips!
Wait for a love like this. A love that is good to you, for you.
Are you up for this challenge?
Can't wait to see the actual gowns!
The up-and-coming musicians and childhood friends talk about their music, creative process, and why it's important to be woke.
Because when it comes to a great lip game, there's really no need to splurge!
A different language sheds new light on everyday terms.
Take advantage of the cooler weather in the metro!