There will come a time in your life that you will have to travel alone. Although the thought of it can be quite frightening and intimidating, especially if you're doing it for the very first time, it actually isn't. For some, the idea of traveling alone may be sad, but you will be able to find joy in it. It's best when you want some time alone away from the city where all you're required to do is to relax.
1 Davao
Davao is known to be one of the safest and most livable cities in the Philippines. Traveling alone will give you the chance to meet new people and to try new things. You'll never run out of things to do and adventures to go on because Davao is filled with them! From a Crocodile Park to a Zorb Park, traveling alone wouldn't be such a bore with the amount of things you can do!
ADVERTISEMENT - CONTINUE READING BELOW
Travel time: Around 1 hour and 45 minutes via plane
2 Sagada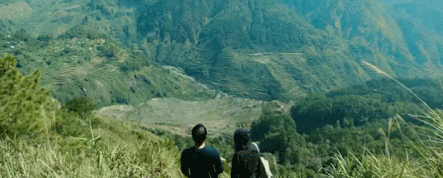 via tadhanahangover.tumblr.com
ADVERTISEMENT - CONTINUE READING BELOW
Sagada is known for its natural beauty, its culture, and the hospitality of its people. The accommodations are budget friendly and you can even join tour groups! It's so beautiful in Sagada that people who have been there say that you are able to see the world from above the clouds. Since That Thing Called Tadhana was shown, Sagada has then been known for the kilig and hugot scenes of Mace and Anthony. The movie shows that when you're traveling alone, you'll never know who you can meet along the way, you might just meet your soulmate!
ADVERTISEMENT - CONTINUE READING BELOW
Travel time: Around 7 hours and 20 minutes via car
3 La Union
La Union is known as the surfing capital of the north because it is said to have some of the perfect waves in the region. Need a place to stay? You can stay at the Flotsam and Jetsam Artist Beach Hostel where all their rooms are uniquely designed. Then you can take a short stop to El Union Coffee and have a taste of one of the best grilled sandwiches you will ever have. La Union is such a great place to go to if you just want to relax and enjoy the waves.
Travel time: Around 3 hours and 35 minutes (without traffic) via car
4 Crystal Beach, Zambales
Crystal Beach is the best place to fully experience the great outdoors because you can enjoy surfing and camping all in the same area. Here you are free to do anything you want to, for as long as you want to at your own pace because you are traveling alone. You are not obliged to entertain anyone but yourself. Surfing in the morning, camping at night, then you finish your day sleeping in a tent, I don't think it gets any better than that!
ADVERTISEMENT - CONTINUE READING BELOW
Travel time: Around 2 hours and 40 minutes via car
5 Hinatuan Enchanted River, Surigao Del Sur
The Hinatuan River is known as the Enchanted River because no one knows where the water is coming from. The river almost looks like it was photoshopped because of its crystal clear waters that gives you a glimpse of the deepest part of the riverbed. Swimming is known to be one of the best ways to decompress after experiencing stress, and in Surigao Del Sur, you are given the chance to swim in such pristine waters.
Travel time: Around 5 hours via plane
6 Luljetta's Hanging Garden and Spa, Antipolo City
When all you want to do is to find peace of mind, head on over to Luljetta's Hanging Gardens and Spa. The fact that it isn't so far away from Manila makes it one of the best and quick getaways. Enjoy a gorgeous view of the city while getting massages or other spa treatments all at very affordable prices.
ADVERTISEMENT - CONTINUE READING BELOW
Travel time: Around 30 minutes via car
7 The Farm at San Benito, Barangay Tipakan, Lipa
Just like Luljetta's Hanging Gardens and Spa, The Farm at San Benito is a healing sanctuary best for those who just want to take time off and unwind. They offer different kinds of yoga and meditation classes that are perfect for overall health and wellness. Good news is that those who will purchase the single occupancy rates on the Wellness Holiday, Detox Cleanse, and Specialized Healing Retreat will be having 25% off savings! What are you waiting for?
Travel time: Around 1 hour and 30 minutes via car
8 Hidden Valley Springs, Laguna
If you rarely spend time alone, you may be surprised at how enjoyable it can be. By its name, it is already evident that Hidden Valley Springs is the best place to stay hidden and to disconnect from everyone. Imagine sitting on a peaceful pool or taking an energizing morning hike without having to make conversation with anyone! Sometimes it's important to take advantage of being alone so you can enjoy the moment and reflect.
ADVERTISEMENT - CONTINUE READING BELOW
Travel time: Around 1 hour and 30 minutes via car
9 Minoloc Island, El Nido Palawan
The Philippines is filled with beautiful beaches, which is why it's not a surprise that another beach is on the list. With the amount of things you can do on the island, you'll never know which interests you'll be able to discover. You are given the opportunity to find yourself as you try to discover the world.
Travel time: Around 40 to 50 minutes via plane
10 Batanes
Since safety is always first, solo travelers will be pleased to know that Batanes has the lowest crime rate in the country. While normally you spend a lot of time talking to your friends, traveling alone gives you the chance to be more observant and reflective. This picturesque town is filled with extremely beautiful sceneries everywhere you go and being alone will help you appreciate it fully.
Travel time: Around 1 hour and 40 minutes via plane
ADVERTISEMENT - CONTINUE READING BELOW