Features
10 Horrible Things Absolutely No One Will Warn You About Studying Abroad
The thing is, not ALL students dream about becoming a Fighting Maroon, Blue Eagle, Growling Tiger, or Green Archer after graduation. An infinitesimal few fantasize about finishing their studies in an entirely different country.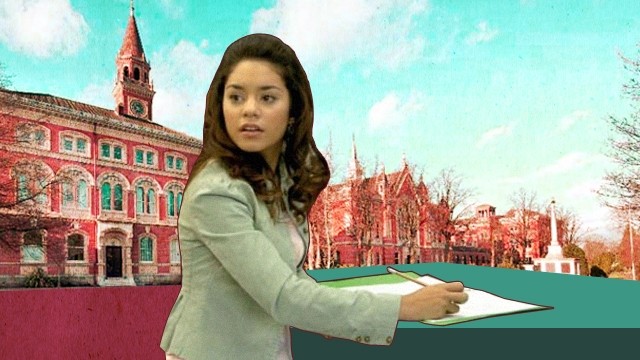 ART Trixie Ison
The ideal path we're taught the moment we crack open our very first school book is to study hard, graduate with honors, land a job, and therefore live a better quality of life. We're wired to think that we need to snag a much-coveted spot in one of the Philippines' elite universities like UP, AdMU, UST, or De La Salle.
But not all students dream of being a Fighting Maroon, Blue Eagle, Growling Tiger, or Green Archer. An infinitesimal few fantasize about finishing their studies in an entirely different country. If you're the type of Candy Girl who visualizes herself studying in universities like Yale, Harvard, McGill, or Cambridge, it could most definitely be one of the most difficult yet most rewarding things that you could ever do for yourself and your education. But like most dreams, they won't come without a little challenge and sacrifice. Here are 12 horrible things that absolutely no one will warn you about when you choose to study abroad. (But we're telling you now!)
ADVERTISEMENT - CONTINUE READING BELOW
It won't come cheap.

Studying abroad won't come cheap. If you think paying for a semester in college is expensive. Then imagine buying plane tickets, booking dorm rooms, paying for college applications, getting health insurance, and endless bills in the country you're going to (Think: groceries, textbooks, school supplies, phone plans, etcetera). There's a reason that not all students dream about moving to a different country to pursue their studies. Financial ability is one of them. While student loans are always going to make paying for tuition easier, do you really want to be in debt to that for the the rest of your life?

CONTINUE READING BELOW

Recommended Videos

Just gathering paperwork is already an extremely tedious, soul-crushing process.

Gathering passports, flight tickets, flight itineraries, transcripts of records, student visas, health records, government clearance records, and more—it's a really long list, and most will take more than a month to be processed by the department involved and delivered to you. If you plan to study abroad, gathering all these documents are vital to a smooth transition to your new educational surroundings—and can be pretty much a pain to gather and get a hold of. So better get started on these documents as soon as possible prior to your departure. Extra emphasis on your transcript of records. You will need that for your university subject crediting. Which brings us to...

ADVERTISEMENT - CONTINUE READING BELOW

It's crazy how much subject crediting SUCKS.

Before going through the entire process of applying to study abroad, be sure to refer to your school's dedicated Study Abroad Office or Registrar to make sure that your subject credits will transfer smoothly. Nothing ruins a perfectly planned education plan like uncredited subjects (not to mention how much of a waste of time that is to go through the same subjects a second time around). With the Philippines only having passed the K-12 system just recently, there may be a chance that you would have to repeat high school in the country you want to go to if you're already in university in the PH (e.g. 2nd year college in the Philippines could possibly equate to stepping back two years for senior high school in the States).

Not everyone will be supportive of you.

 

This is a sad reality for some students who wish to move out of the country to pursue education. If you're one of these students, you will most likely hear things like: ""Why?!", "That'll be SO expensive," "Why don't you want to try the universities here?","You don't know anyone there! You're just going to make your college life more difficult than it has to be!" Or the ultimate whammy "You'll never see your friends and family in the PH for how long?" While these may be true, if studying abroad really is your dream, they will find a way to support you. But in a similar way, you have to be strong and accept the people who think you're crazy for going for what you want as well.

ADVERTISEMENT - CONTINUE READING BELOW

Keeping track of social customs, language barriers and religion can be tough.

This isn't just for people who'll study Theology, Anthropology, or Communication. You must know at least some basic French if you want to study in France or a little bit of English if you want to finish your studies in the United States and understand their social customs and religion.

Letting everyone know you're moving away to study is both exciting and depressing.

 

But it will help you bid your proper farewells together with mending broken relationships prior to your departure. Who knows, one of your friends/relatives may know someone who may help you adjust to your new surroundings at the time of your arrival and aid you with housing, food, work etc. If so, then that specific experience will be invaluable.

Needing to figure out a way to finance your trip is a major obstacle—and would most likely require the equivalent price of an arm and a leg... plus a blood sacrific.

The cost of living while studying abroad is insanely expensive. Of course, some schools offer scholarships for exemplary foreign students as well as student loans, but getting a job is the best way to earn your own money for paying endless bills. It's best to be prepared with enough money to last you through 4-6 months (or a year at best!) without a job including extra cash for when your insurance doesn't cover emergencies while you're abroad.

ADVERTISEMENT - CONTINUE READING BELOW

Two words: CULTURE SHOCK

When you arrive in a different country where everything you've grown to know and love is no longer around to console you when you need it, it's inevitable! In the first few days of living in a new country, you'll feel alienated by everything. Adapting to a new environment can be tricky, and it's almost impossible to grow out of the Pinoy values and customs you grew up with. For a while, everything you do will feel unnatural, and that's okay. It's amazing how much the human brain can bear and adapt to new surroundings—and how quickly, too.

ADVERTISEMENT - CONTINUE READING BELOW

You won't need that extra bag/box of luggage

 

When you've systematically packed everything up in bags to leave your country, it's tempting to stuff everything you know and love to bring along to a new country to make it more homey. But here's the deal: no matter how many homey things you'll bring, it will never replicate your home back in your country of origin (massive truth bomb right there). While a few photos can be extremely helpful, you really won't need to pack most of your tropical clothes when you're leaving for a country with a much cooler climate.

You will get homesick sooner or later.

When your honeymoon phase with a new country fades and the reality of balancing work, paying bills, and studying for classes start to seep in, you'll find yourself feeling all alone clutching the sheets questioning your decision regarding moving abroad. And that's completely normal. When these moments come, and you're up at 2am questioning your sanity of moving out of the country you know like the back of your hand only to be an alien in an entirely foreign place, remember what pushed you to pursue this dream and see how far you've come. Make that your inspiration to keep pushing on.

ADVERTISEMENT - CONTINUE READING BELOW
Are you considering studying overseas? What other struggles have you been dealing with?
The streamer also talks about how the game helped her cope in quarantine.
Guess we're getting ourselves a PS5 then.
He was dedicated to the fight for freedom and human rights.
Nieves Fernandez killed 200 Japanese in WWII.
It was filmed four days before he was rushed to the hospital.
Facebook is allegedly collecting unauthorized data for market research.
They'll fit right into your #aesthetic home study area!
From light-hearted rom-coms to musicals.
She's set to star as the young Gabbie Salazar, originally played by Shaina.
We're keeping her tips in mind!
Proof that Ivana has a heart of gold.
Pagdating sa skincare, stick to one ba dapat?
From The Candy Bulletin Community