Features
10 Friendship Lessons We Learned From Kathryn Bernardo's Posts
Tried and tested by the Teen Queen herself!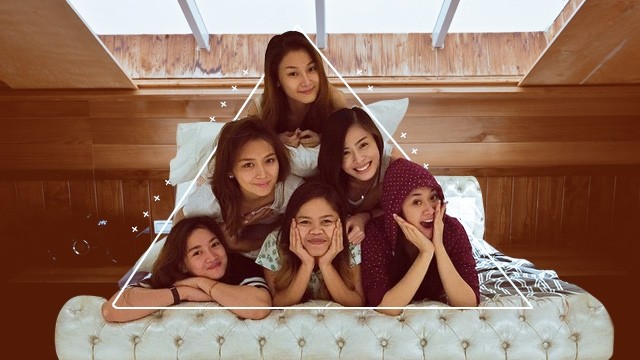 IMAGE Instagram ART Clare Magno
It's a little-known fact that Kathryn Bernardo loves hanging out with her friends and that she always takes time to let everyone (read: her millions of followers) know how special they are to her. So who better to get friendship lessons from than someone who is pretty vocal about how much she loves her pals!
Know their value.
ADVERTISEMENT - CONTINUE READING BELOW
When you know how much your friends and their friendship mean to you, you'll love them (and vice versa) even more!
Always have their back.
This goes without saying, but a true friend always has her friend's back.
Value shared memories.
ADVERTISEMENT - CONTINUE READING BELOW
Never underestimate the power a fond memory can bring. 
Appreciate what they do for you.
Cheesy na kung cheesy. What's important is you let them know!
Get silly in the name of friendship.
ADVERTISEMENT - CONTINUE READING BELOW
Who better to get crazy with than with friends, right?
Be supportive.
Whatever way you can.
Show them you enjoy their company
ADVERTISEMENT - CONTINUE READING BELOW
Tag them them in your posts or tell them personally—they'll appreciate it either way.
Nurture your friendship.
Grow with your friends physically, emotionally, and if possible, spiritually, too.
Accept that it's not always going to be rainbows and unicorns.
ADVERTISEMENT - CONTINUE READING BELOW
Nobody's perfect and no friendship is either. 
Acknowledge the impact they bring to your life.
No matter how big or small, a part of who you are today is because of how your friend touched your life.
Many of our favorite K-drama actors right now actually started out as idols!
Thailand rethinks its elephant strategy.
Who else wants a basket full of mojos?
We're hoping to see more of these in different LGUs!
Sometimes, no matter how hard you try, some people just won't vibe with you, and that's totally fine.
Have you tried the #ComeAroundMeChallenge?
The cheerleading docu-series is a phenomenon.
A lot of them are dirtier than a toilet seat.
The kind of wholesome content we all love to see.