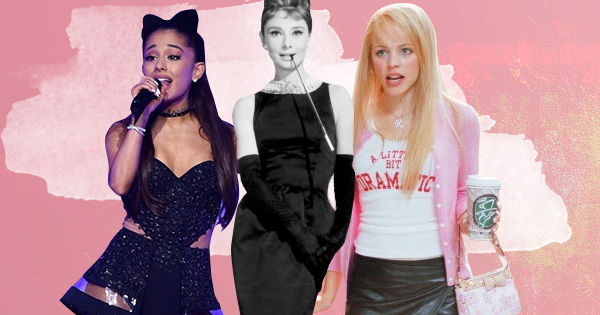 A lot of us wish we could dress up just like our favorite celebs and characters, don't we? It's just that sometimes, we're not brave enough to strut around in their looks on a regular day in broad daylight. Lucky for us, Halloween is just around the corner, and it's a great opportunity for us to finally bring out those sparkly tops and knee-high boots and channel our inner celebrities and characters for a day. Check out how you can rock 10 of our favorite #OOTDs this Halloween!
1 Taylor Swift
Black sequined crop top? Check. High-waist skirt? Check. Black booties? Check. Red lippie? Check, check, and check. This combo is a signature Taylor Swift ensemble that is not something you can (or should) pull off around campus. If you're feeling extra brave and sassy, you can also don a blonde bobbed wig to go the extra mile.
2 Amor Powers
It's time to show everybody that an all-white outfit doesn't mean you're dressed up as a white lady for Halloween party. Go for either a one-piece jumpsuit or a halter dress (all-white of course), and pair them with either white or nude stilettos for that classy look. You can also opt to go for statement necklace or just go with classic pearl accessories. Remembert to slick your hair back if you want to achieve a complete, no-nonsense look.
ADVERTISEMENT - CONTINUE READING BELOW
ADVERTISEMENT - CONTINUE READING BELOW
3 Ariana Grande
Ah yes, it's time to take out your cat ear headband out for a spin. Similar to a T-Swift combination, match your sparkly crop top with high-waist shorts or a skirt. But this time, rock the highest knee-high boots you can find. 'Ariana Grande without her signature hair style? Put your hair high up and swing that do with all the sass you can muster.
4 Minions
Don't waste the chance to jump on track with the latest trends. If you hadn't had the chance to wear those cute denim jumpers in school, now is the time. Wear your favorite yellow shirt and pair it with your overalls. Don't forget those black gloves and black boots! And if you want to really channel your inner minion, bring those goggles along and wear them proud.
5 Katniss Everdeen
There are so many ways to dress up like Katniss Everdeen in the Hunger Games, but in every outfit, remember that it will not be complete without her awesome braids. So you can go for a grungy look—black shirt, brown leather jacket and gloves, black pants, and combat boots–but just don't forget to style your hair in her signature side braid, and you're good to go!
ADVERTISEMENT - CONTINUE READING BELOW
6 Audrey Hepburn
You can't really go wrong with this all-time classic. Achieve her look with any LBD and elbow-length gloves. Stock up on your pearl necklaces and practice perfecting that Audrey Hepburn updo. Top it all off with oversized black sunnies!
7 Edna Mode
As she said in The Incredibles, "no capes!" As a fashion designer, her motto is that red makes a statement. With that in mind, you can get her look by wearing a black dress and tights or a black button-down shirt with a skirt and leggings. Borrow your dad or uncle's red necktie so you don't end up disappointing Edna. Don't forget to grab a pair of thick, black frames to complete the look. And if you're feeling adventurous, try out her cute hairdo using a wig!
8 Inside Out emotions
Take your pick from 5 emotions! For Joy, just put on a yellow-green dress and a blue wig. For Sadness, bundle up in a cozy white turtleneck or sweater, black jeans or leggings, black glasses and of course, that blue wig. Lastly, for Disgust, go all out with the green. Green dress, green belt, green leggings and green wig! Tie a pink scarf around your neck for added oomph, and you're good to go. Bonus: Check out this makeup tutorial for all the characters!
ADVERTISEMENT - CONTINUE READING BELOW
9 Cady and the Mean Girls
Squads with 4 members can totally rock this ensemble! Halloween might not be on a Wednesday, but you can make an exception just this once and all wear pink. You don't need to overdo the pink though. You can just layer on touches of pink to your outfits so you won't look like you put too much effort into putting the look together. Just remember to stick together as much or your outfit might not make sense!
10 Marilyn Monroe
Go back to the 1950s when Marilyn Monroe was at her peak. Put on that white iconic dress she's widely known for and a short blonde curly wig. She also has that signature red lippie, so go for it! For people to immediately recognize you, don't forget to draw on a mole on the left side of your cheek.
What's your pick for your costume? Just tweet us @candymagdotcom or leave a comment below. We love hearing from you!
ADVERTISEMENT - CONTINUE READING BELOW