After being the It footwear during the fall season, high-heeled loafers are still on trend and is becoming more popular in the local fashion scene. Different styles of loafer heels have emerged in the market and is now selling like hotcakes!

Fashion bloggers have incorporated the preppy footwear into their wardrobe and tried different looks with the high-heeled loafers. Style icon Tricia Gosingtian expressed her love for her loafer heels last year and she's still loving them now. Being used to wearing loafer heels and incorporating them to her style, Tricia gave 3 tips on how to rock this footwear.
Pair them with a full preppy ensemble and make a statement. Geek chic is always in, and pairing loafers with collared button-downs and cardigans is never cliche. Try pairing classic brown loafer heels with denim jeans for a more casual look. Try pairing beige loafer heels with a pleated skirt and mesmerize your date with how incredibly polished you look!
Add a bit of spunk by opting for edgier loafer heels. Animal-print ones or ones that come in bright hues will definitely catch a lot of attention. Good thing about edgier loafer heels is they might come in loud prints and colors but the shape is generally classy so you won't have to worry about having to sacrifice being conservative.
Consider your leg and foot shape before anything else. Loafer heels with ankle straps may give you the illusion of shorter legs while ones that have pointy tips may help elongate your legs.
ADVERTISEMENT - CONTINUE READING BELOW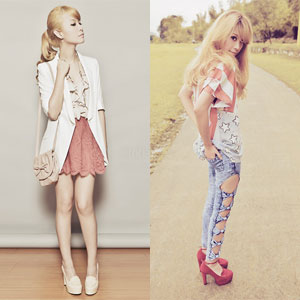 ADVERTISEMENT - CONTINUE READING BELOW