Fashion
Thrift Shopping 101
Make your ukay-ukay trip worth it with these tips.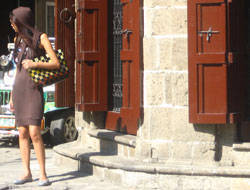 Do you have any tips for shopping at an ukay-ukay?
Ukay-ukay or thrift store shopping can be addicting and fun if you know how go through the store and with things you'll actually use. Here are some things you have to keep in mind for you to survive your first ukay-ukay shopping trip.
Keep an open mind. Some people think that ukay-ukay clothes are dirty. Yes, it's used but it doesn't necessarily mean that they are not wearable. You just need to let go of your apprehensions about used clothes and think of the treasures you will find.
Be patient. Most ukay-ukays are big so you really have to go through each section and each piece if you want to discover a good find. It can be really tiring but taking home the things you'd never thought you would find in a thrift shop will be all worth it.
Keep your eyes open. Some items sold in thrift stores are overruns so look for items with the tags still attached to it. You might find branded items still in good condition. Old trends are making a comeback so keep an eye for items that are in style. It helps to look at style sites and fashion blogs to know what's the current trend.

Be meticulous. Be obsessive-compulsive and examine each item thoroughly. Check for loose threads, holes, and missing buttons. If you feel that it can still be reparable, get it but if the altering will cost more than the actual price, forget about it.
Dress comfortably. There are some stores that don't have dressing rooms. Wear a fitted tank top and shorts so it will be easier for you to try things on.
Wash the clothes immediately. These clothes are tossed everywhere and you're clueless where it came from so better wash them thoroughly before actually wearing them. Candy Tip: Soak the clothes in hot water before throwing them in your washing machine.

Have fun! Shopping isn't supposed to stress you out. Just have fun with your friends by comparing your cheap but great finds. It's all about bonding and finding new (but not literally) stuff for your closet.
Got a fashion emergency? Ask Roch, she can help you out!
CONTINUE READING BELOW
Recommended Videos
ADVERTISEMENT - CONTINUE READING BELOW
They were once Green Archers.
South Korea's revised law will give pop culture artists a chance to delay their military service.
According to a new study.
"I love that I am trans. And I love that I am queer."
It's not just about your face shape!
"If I don't want to be taken a video of, I don't have to be."
From award-winning actors to top musicians.
Plus other things to know about the video game streamer.
Have you been dreaming of this trendy hair color?
Did you know he starred in a couple of music videos?
From The Candy Bulletin Community