Fashion
This Sister Duo Tells Us What Every Young Entrep Needs to Know to Make It
Because you will always have minor and sometimes, major boo-boos.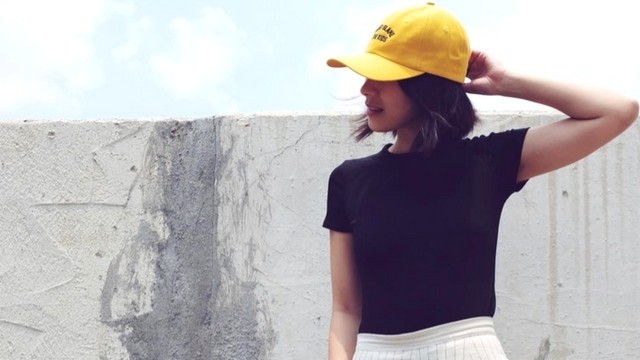 IMAGE Four Cranes | instagram.com/fourcranes
Looking for the perfect partner when starting up a business is sometimes just as challenging as figuring out what to sell and how to actually put up the business. But for sisters Janine and Jam, looking to each other as business partners for their fashion brand Four Cranes seems like a no brainer. Read on and find out how this sister duo started Four Cranes and their advice on budding entreps!
How it started. "Before we started Four Cranes, my sister and I both have full-time jobs that are nowhere near the fashion scene. But we wanted to invest our savings into a project that we both enjoy doing. We saw a potential in the local footwear business and decided to start the brand Four Cranes, which eventually evolved and expanded to apparel as well."
ADVERTISEMENT - CONTINUE READING BELOW
Why Four Cranes? "We ourselves are always searching for unique, but classic pieces that aren't always available here in the Philippines. So we thought, why not design and make them ourselves instead?"
Young entrepreneur. "Starting a new venture is never easy and always entails risks and costs. That's why it's also very rewarding to see our work translate into pieces our clients appreciate. We get a lot of support from our family—especially our mom whom we got our entrepreneurial tendencies from. Technology and social media, aside from significantly lowering operating costs, have also been an important tool for us to reach our market—especially during start-up phase."
ADVERTISEMENT - CONTINUE READING BELOW
Drawing inspiration.
"I
nspired by a simple paper crane origami, we want to achieve a minimalist and effortless style in each of the pieces that we design and create. We maintain a very simple look across our production, marketing, and customer service—no fuss, no complications. Just as paper cranes are composed of myriad of folds and angles, also love making versatile pieces—something that our clients can play around with, be it a reversible top or a multi-wear. We'd like to promote slow fashion. This is why we try to make each piece simple and timeless and of really good quality!
"

ADVERTISEMENT - CONTINUE READING BELOW
Sister Duo. "We are sister-owners! We work on the designs, production, marketing, finance, and customer service. Our personal styles are very contrasting. I (Jam) like the minimalist look while Janine is more into bright, lovely prints. However, we find common ground in maintaining a classic, effortless, and comfortable style while adding a touch of femininity into whatever we wear. We also try to complement each other's weaknesses with the other's strengths. We ask help from our brothers—especially in developing and maintaining our website, too! With a conscious effort to grow with other small businesses in Manila, the brand has partnered with local leather-crafters and tailors as well. We enjoy working, learning and growing with this small team."
ADVERTISEMENT - CONTINUE READING BELOW
Little challenges. "Because of the ease and accessibility technology offers, the competition is also tighter. We are constantly challenged to come up with new and unique ideas on how to present and sell the brand, how to target and reach our potential untapped market, etc. This is a challenge that we gladly welcomed because it's our way of improving and really pushing ourselves to offer only the best to our shoppers."

ADVERTISEMENT - CONTINUE READING BELOW
Staying original. "With Four Cranes, every piece is carefully designed, meticulously crafted and produced to offer only the highest quality and comfort. It is our goal to produce timeless and classic designs, wearable across all seasons and trends. We support the slow fashion movement, promoting quality over quantity as well as developing local businesses and skills."
ADVERTISEMENT - CONTINUE READING BELOW
What's next? "The goal really is for Four Cranes to be a 'go-to' label for our current and future clients. For our loyal customers, we have been giving out online promotions and holding mini-contests. These and more surprises in the future!"
Entrepreneurial philosophy.
ADVERTISEMENT - CONTINUE READING BELOW
"Do everything as if you are your own client. "
To young budding entrepreneurs. "Don't get stuck at planning and dreaming, do it. The uncertainty of starting something new can get intimidating and remember that you won't get everything right at the onset. You will always have minor and sometimes, major boo-boos, but how you react and learn from these will define the future of your brand or business. "

Know any young entrepreneurs? Leave a comment below and you just might see them on the site next week!
It's the best time to pick up a new hobby and put those notebooks to use.
We can't handle this breakup!
For days when you need an instant outfit inspo that's still campus-appropriate.
It could very well be one of the world's largest volcanoes.
From consistently badmouthing another friend behind their backs to making snide comments sneakily disguised as compliments, here's how to deal with a tricky friendship.
From sisig to bulalo, the North has a lot to offer.
Even college students like us can apply for freelance creative jobs while we're still going for that diploma!
These simple practices, when done consistently, end up being worth a lot.
It can actually *shatter* your cartilage.
Bordeos becomes meat of online talk while helping out in family's meat business.
From her gowns down to the décor and food!
Trish is part of Candy Rookies 2020, a group of influential and aspirational college students handpicked to represent #GenerationCandy in the year to come.