Going back to school can be sad and fun at the same time. Sad because it's the start of unlimited readings, quizzes, and group work again, but it's fun because you get to hang out with your friends again, there's the return of your allowance from the parents, and of course, our favorite—dressing up for school. To make sure that you'll put your best foot forward this school year, style wise, we're taking the guesswork out of your shopping lists and sharing our favorite back-to-school fashion must-haves.
Clothes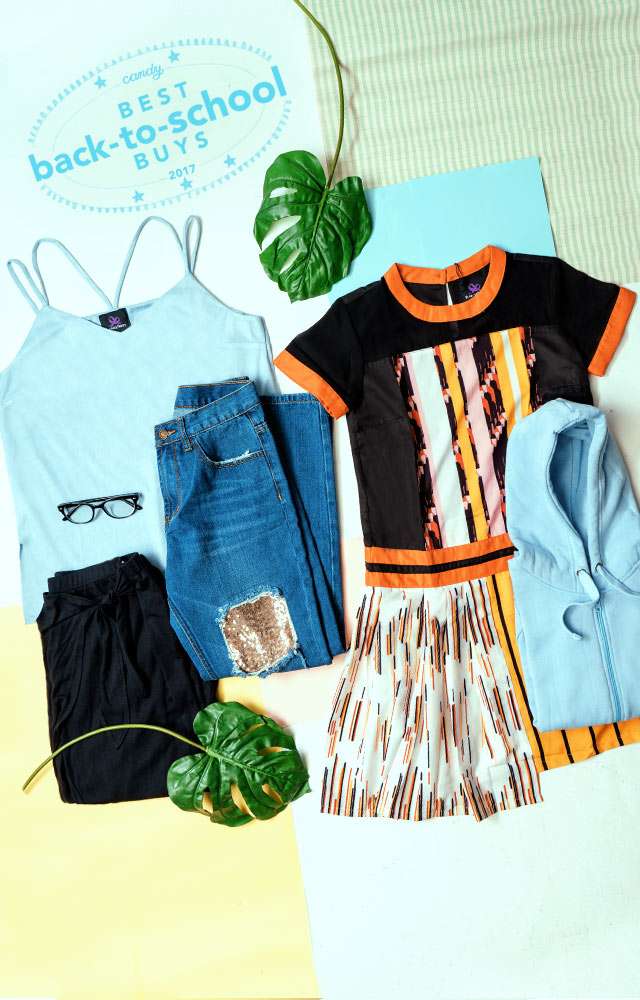 Best cami for extremely hot days. Plains and Prints, P998
Whether your classrooms are air-conditioned or not, no one is truly safe from the hot and cold weather of the country. For extremely hot days, you know that there's nothing better to wear than a breezy cami and this piece from Plains and Prints is the perfect example of a breezy, comfy top that's still dressy enough for school.
Best leggings for your "I'm tamad today" school uniform. Forever 21, P915
It's a major fashion rule never to wear your leggings as pants, but let's face it when you've got a ton of things to do and catch up on for the day who cares about fashion rules? If you're planning on breaking rules today, might as well opt for a pair of leggings with great detail to give them something good to talk about.
ADVERTISEMENT - CONTINUE READING BELOW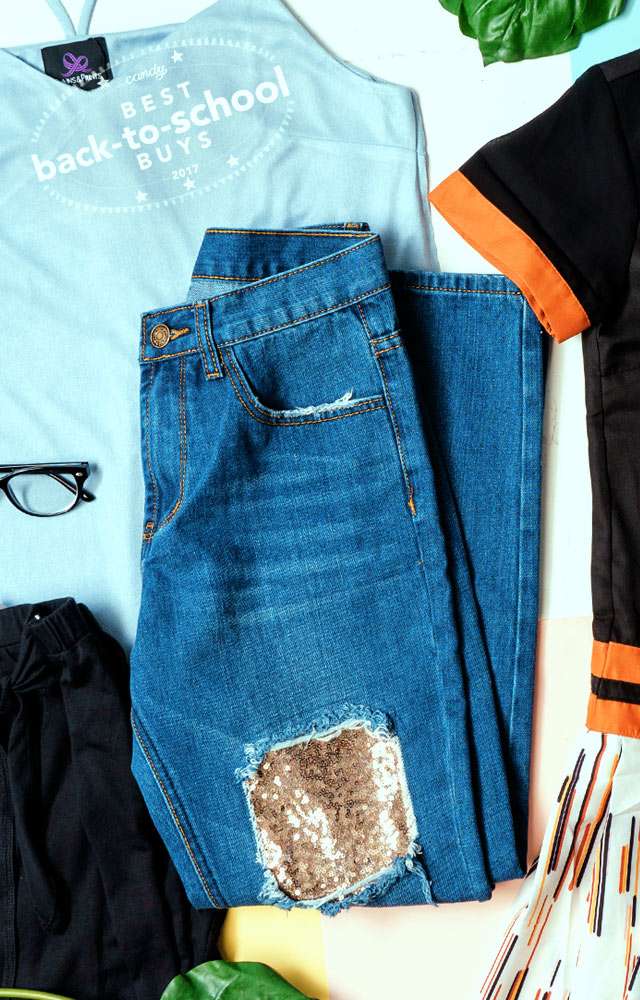 Best extra jeans for your feeling extra days. Forever 21, P1535
Nothing spells EXTRA more than this pair of denim jeans with a sequined patch!
Best dress for your "I have nothing to wear" days. Plains and Prints, P1698
We all have those days when we just get stuck in a style rut. The key here is to stock up on pretty and classic dresses like this basic but bold dress to save you from days when you have absolutely nothing to wear even though we all know that you still got a pile of clothes you haven't worn in months.
Best hoodie for your library camp out. Bench, P699
Ditch the usual greys and blacks, and opt for a soft, powder blue hoodie for a cute and comfy library stay-in.
Shoes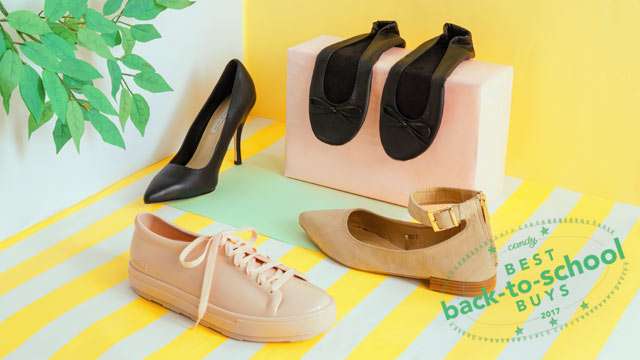 Best flats you can walk in all-day long. Parisian, P699.75
Heels are amazing confidence boosters, but when you're walking from building to building, flats are your best bet. Opt for a classic pair with modern details like this shoe from Parisian for a stylish modern update of Audrey Hepburn's go-to shoe style.
ADVERTISEMENT - CONTINUE READING BELOW
Best thesis defense pumps. Charles and Keith, P2299
Keep your Keynote presentation strong, but your shoe game even stronger with this power pump.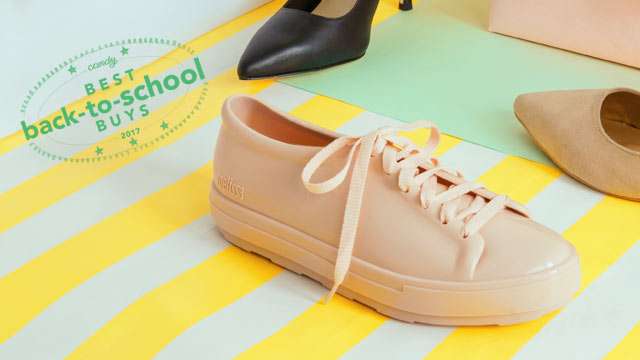 Best sneakers to complete your sporty-chic look. Melissa, P2895
We love our white sneaks, but for the perfect back-to-school look, it's smart to swap your usual whites for trendy millennial pink sneakers instead!
ADVERTISEMENT - CONTINUE READING BELOW
Best commute shoes ever. Bench, P349
Yeah, you can brave the uneven sidewalk and the muddy puddles with your trendy sneaks and pretty flats, but we all know nothing is ever worth getting a shoe ruined for. Invest in a pair of commute shoes you can easily roll and throw in your bag as soon as you get off that trike.
Accessories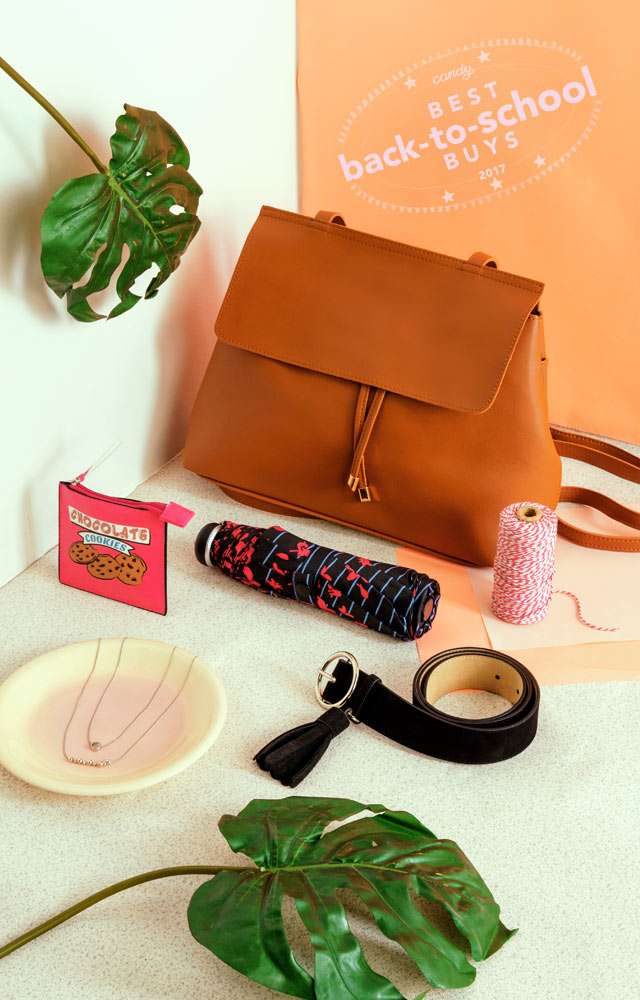 ADVERTISEMENT - CONTINUE READING BELOW
Best school bag for your back to school OOTD. Parisian, P699.75
Give your grade school Jansport a modern and sleeker update with a tan backpack for school.
Best umbrella to shield you from the rain. Esprit, The SM Store, P699.75
We have to admit that splurging on a payong can be painful—especially when you spot a TDF top across the store. But when the mighty storm is here and you have to cross an open field, you're going to want to give yourself a pat on the shoulder for investing in an umbrella that's both durable and stylish at the same time.
Best coin purse for all your coins. Bench, P179.75
Having too many coins in your wallet can be a drag. But when you've got a purse as cute as this cookie-printed one, you're going to want to change all your twenties into one-peso coins just to fill it up. Okay, we might be slightly exaggerating, but you get the point.
ADVERTISEMENT - CONTINUE READING BELOW
Best belt for "Di naman maluwag, but I'm gonna belt it" jeans. Charles and Keith, P799.80
Black belts are basic, but when it has a cute tassel like that, oh boy, you know it's time to belt even your most masikip jeans in the closet.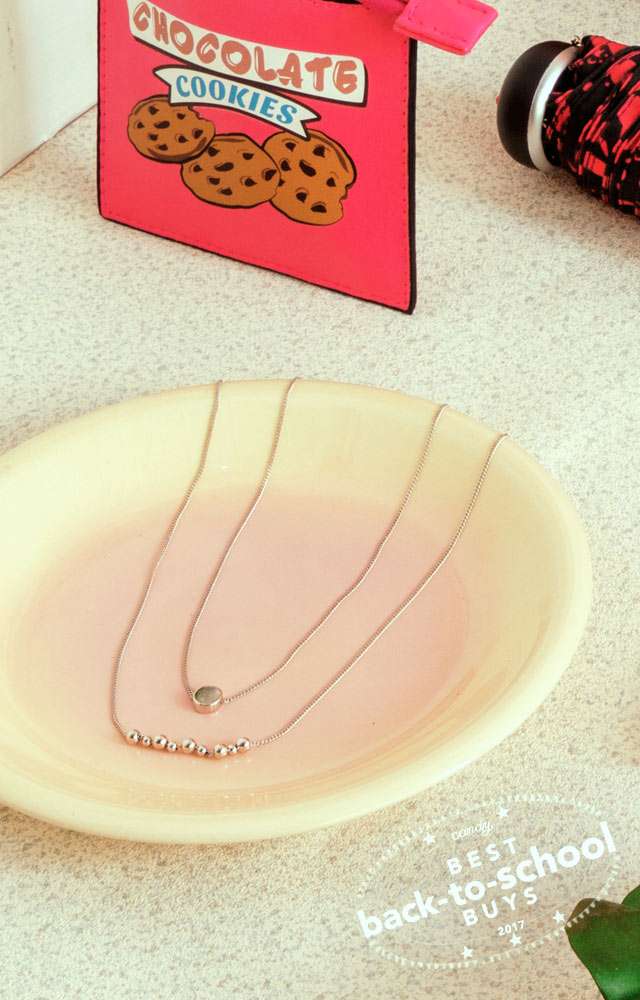 Best simple accessory to add to your LOTD. Plains and Prints
ADVERTISEMENT - CONTINUE READING BELOW
Yes, thin accessories are barely seen by others, but even the simplest and smallest accessory can take your look from zero to hero just like this silver necklace that's reminiscent of the one Carrie Bradshaw wore in Paris.
Did your favorites make it to the list?