In Analog Soul, they believe that everything should be about the experience.
Taking careful measures in designing the perfect pair of jeans that would look and feel as if it was tailored made for your body, they understand that jeans are not just about looking good, but it's all about being comfortable as well.
Find your nearest Analog Soul store and just try on a pair—the experience is worth it.
Analog Soul is located at: Powerplant Mall 2nd Level, The Ramp at Glorietta 4, and Trinoma Second Level.
You can reach them through their office Tel/Fax: (02)8942883.
ADVERTISEMENT - CONTINUE READING BELOW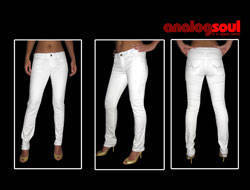 ADVERTISEMENT - CONTINUE READING BELOW