Name: Tessa Mikyla Santos
Age: 19
School: Miriam College
Hometown: San Mateo Rizal
Winter wear. My style usually depends on my mood. Living for 12 years in Riyadh, Saudi Arabia greatly influenced my way of clothing where in we experienced winter season. I fell in love with trench coats, leather motorcycle jackets, and boots.
Shopping addict. I love pieces from Mango, Terranova, Forever 21, Candies, Kira Plastinina, New Yorker. They have a lot to offer from tops, shorts and dresses. For my accessories and shoes, I usually go for Claire's, Aldo, New Look, Nine West, Celine, Gibi, and Janilyn.
Fashion guru. I admire Kira Plastinina for her passion for designing fashionable clothes for young women. I am also into fashion designing and she gives me inspiration since she is known as the youngest fashion designer in the world.
Black lines. I never go out of my house without my black eyeliner. Even without eye shadow, black eyeliner gives life to my eyes. I go for liquid eyeliner which makes my eyes fierce.
Inspired. I got my inspiration from the five ambassadors of Forever 21. They gave me inspiration in creating and experimenting in fashion. They also gave me the courage to try unique combination of outfits like wearing boots here in a humid and warm country.
Style icon. I adore Rachel Zoe for her sophisticated and classic style as well as Liz Uy .
Young fashion lover. Ever since I was a kid, I've been reading fashion magazines, which gives me variety of ideas in mixing and matching my wardrobe. It influenced my style as well as my love for fashion designing.
Dark hues. My closet color palettes are usually dark colours like black, red, dark blue and purple. I'm not the girly type so I go for the edgy look.
Never ever! Crocs!
The basics. I think black pumps, black dress, and jeans never go out of style.
Trend rebirth. Flared pants from the year back because they make me look taller.
Vintage hand-me-downs. I'm loving the brown vintage aviator shades from my Lola from the '60s. It matches many of my outfits.
ADVERTISEMENT - CONTINUE READING BELOW
Do you want to be the next It Girl on The Web? Fill out the form here.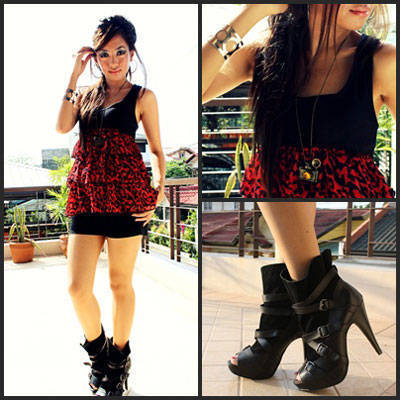 ADVERTISEMENT - CONTINUE READING BELOW