Name: Vina Lee Guerrero
Age: 19
City: Bacoor City
School: UST
Versatile style. I'm open to try different styles! I post different looks on my blog so that my readers won't get bored with my outfit posts. But, you'll notice that my general style is more girly-girl.
Shopping fave. Forever 21. Almost all my clothes are from Forever 21! I also enjoy buying pieces at bazaars and some online shops.
Style icons. My favorite blogger, Camille Co, is definitely my top style icon. I visit her blog everyday! Her style is very playful and she can pull off any type of look. I also really admire the style of Anne Curtis.
Stylish influence. Fashion blogs and outfits from Lookbook.
Closet colors. Pastel and neutral hues! I love the colors purple, mint, peach, aqua, pastel yellow, coral, black, white, and especially gold! I have few neon pieces but I seldom wear them.
Accessory must. I don't really play around with arm accessories. I just like wearing a watch, a gold watch to be exact.
Never wearing. As long as I'm comfortable and the clothes fit me well, I'm open to wear anything.
Trendy comeback. The style of the 1980's definitely! Everything was just so fun and cool.
Best buy. The dress I bought at Bloggers United. It's a super beautiful dress and for only 50 pesos!
Do you want to be the next It Girl on The Web? Fill out the form here.
ADVERTISEMENT - CONTINUE READING BELOW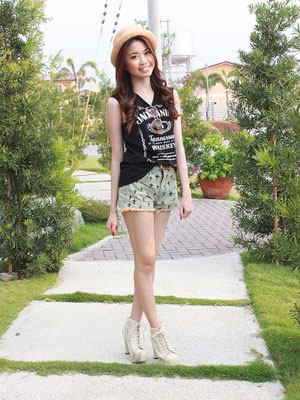 ADVERTISEMENT - CONTINUE READING BELOW