Name: Vern Enciso
Age: 17
School: DLSU
Hometown: Manila
Classic chick. My style is usually affected by the mood I'm in or the weather but it never veers away from the classic girly-girl. Florals, daisy dukes, heels, dresses, and skirts—those are clothes you would usually see me in. I love prints that speak for themselves. I like focusing on a certain statement piece and just work my way through. I like simple accessories, the ones that are just so gorgeous that I don't have to pile them up. And bags bags bags bags.. They say eyebrows make the makeup, but I say the bag makes the outfit!
Bazaar girl. I'm never brand conscious when it comes to clothes. I buy clothes everywhere and anywhere! I shop for clothes in local all year round bazaars like Greenhills and Tiendesitas. I swear, NEVER underestimate those two places. You can always find really nice clothes there. For basics, I buy everything from Topshop. The quality is A+! I buy most of my dresses in Hong Kong or Pink Manila. Though I prefer seasonal bazaars where local designers sell their stuff because they usually only have a one or few stocks for a certain piece compared to mainstream shops where everyone can buy them.
Fave fashion designer. It will be hard to name one but Balmain's designs always catches my attention even if it veers away from my personal style. Locally, I love Catherine Cavilte and Happy Andrada.
Statement piece. A really gorgeous bag!
Inspired. People in Chictopia.com. I love that site because girls there are never afraid to wear whatever they want to wear. I also love reading magazines like Preview, Vogue, Teen Vogue and Jessica (a magazine from HK). Window shopping also helps because I know what's in and what's out then I just try to incorporate that to my everyday outfits. Oh Heidi Klum, Zooey Deshcanel, Rachel Bilson, Leighton Meester and Liz Uy are my inspirations too :)
Style goddess. Heidi Klum will always always be my style icon. Though she's a mother of 2480284502 kids, her clothes just fit her perfectly and she always looks so classy and fabulous everywhere! I want to look like that when I become a mom someday.
Sisterly influence. Honestly, my little sister Verniece did! It's ironic I know but she was always so dressy and cute that she inspired me to dress up the way I do now. I just added my bubbly personality to it.
Color palette. Pastel colors, royal blue (there's just something bout this color!), white, and beige.
Never seen in... Colored and white leggings.. It makes any legs look fat no matter how skinny it is. It's just so unflattering.
The basic three. White v-necks, denim shorts, and the classic speedy Louis Vuitton bag.
Trend comeback. Dresses from the 1950s! They're just so colorful and happy! I love the big skirts and prints with the matching head accessory!
Vintage owns. My lolo's Rayban aviators! I have like 2 of them and I love the thought that he bought them a long time ago and they never went out of style!
ADVERTISEMENT - CONTINUE READING BELOW
Know other stylish girls? Post their links on the comment box below or post in TeenTalk.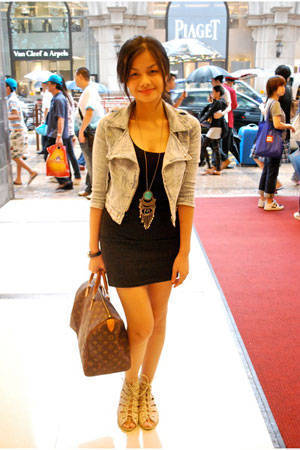 ADVERTISEMENT - CONTINUE READING BELOW