Name: Trizia Lim
Age: 21
School: University of Asia and the Pacific
Mood dresser. My style really depends on my mood. I love to mix and match my clothes for variation.
Shopping haven. Topshop, Zara, Mango, and Ukay-ukay!
Fave fashion designer. Betsy Johnson. I also love Kate Moss' designs for Topshop.
Accessorize. I go overboard on rings.
Inspired by. The Olsen Twins' inspires me a lot with their style because of their ability to mix and match clothes ranging from vintage to the latest trend. I also read Sea of Shoes' Jan Aldridge's blog religiously just so I can catch up on latest designers and good vintage finds. I get ideas from them and get pieces that are not too expensive as theirs.
Style icon. Mary-Kate Olsen, Ashley Olsen, and Lauren Conrad.
Influenced. Ever since I was a kid, I love to dress up. I visit fashion blogs and watch TV series and try to incorporate the styles of people that are "adventurous" when it comes to their style (a simple black dress paired with a worn-out, oversized plaid polo, ultra ripped jeans paired with a blazer, etc.)
Closet's color palette. Black, gray, pink. Most of my clothes are printed.
Never seen in... Micro-mini denim skirts paired with a tank top and high heels.
Stylish three. Trusty LBD,  black ballet flats, and a white shirt.
Fashion comeback. I love  everything about 70s fashion-trouser suits with wild printed designs, disco platforms.
Vintage finds. A vintage Gucci and Dior bag from my mom. She's had it for years!
Know other stylish girls? Post their links on the comment box below or post in TeenTalk.

ADVERTISEMENT - CONTINUE READING BELOW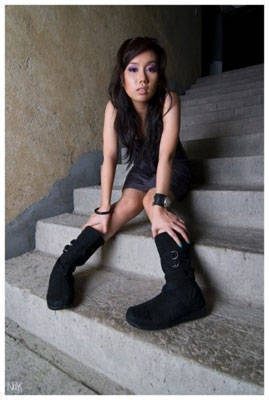 ADVERTISEMENT - CONTINUE READING BELOW