Fashion
Style Files: Trish Dela Fuente
This girl has a lot of hand-me-downs from her mom. Click to learn more about Trish's style.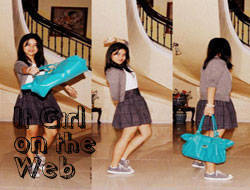 photos courtesy of Trish Dela Fuente
Name: Trish Dela Fuente
Age: 16
Hometown: Alabang
Versatile style. My style varies a lot. This is cliche, but it really depends on my mood. I can go from casual, to boho, to preppy, to hip-hop anytime. I like mixing and matching styles. I'm not the type of person who sticks to certain styles since I easily get bored with just one.
Shop everywhere. I go everywhere when I shop, so the brands of my clothes are really assorted. I find the best finds at the most unexpected places. The shop I frequent the most though would be Topshop.
Favorite fashion designer. I don't really follow a certain designer but if I were to choose, it would probably be Karl Lagerfeld because of Chanel and Jeremy Scott because of his intriguing colorful designs which are really very eye-catching.
Never leave without. Sunglasses. I never include my sunglasses whenever I take outfit shots but it's one thing I never leave home without. I feel incomplete without it!
Fashion inspiration. I have many inspirations since I make it a habit to expose myself to art and fashion. Some of these inspirations include Blair Waldorf's preppy style and my new favorite inspiration as of the moment: Korean fashion.
Looks up to. Lauren Conrad.
Style influence. I guess it would be my exposure and love for art. Ever since I learned how to draw, I already had the appreciation for art in me so now, I have this idea of what looks good and what doesn't which is why it is easy for me to make things look good through the use of my style.
Closet's color palette. There's a lot, really. The main colors would be blue, pink, and yellow though I also have a lot of black since it's a basic color and it can go with anything. I tend to stock on black especially when it comes to skirts and dresses.
Never seen wearing. Really tight body-hugging tube tops. I don't think I'll ever have the body to wear those. haha!
Stylish three. High-waisted skirts, black pumps, and flats.
Vintage finds. I own a ton of hand-me-downs from my mom. She's also pretty fashionable so she's had some of the "in" things from the past. My favorite favorite piece that I got from her is this multi-colored swimsuit, which I would pair with jeans and a belt (I got this inspiration from the Korean girl group, 2ne1, wherein CL would wear Topshop bodies with jeans.) The swimsuit is around my age (16 years) and I still have pictures of my mom wearing it while she was on the beach with me when I was 3 years old!

ADVERTISEMENT - CONTINUE READING BELOW

CONTINUE READING BELOW

Recommended Videos
Know other stylish girls? Post their links on the comment box below or post in TeenTalk.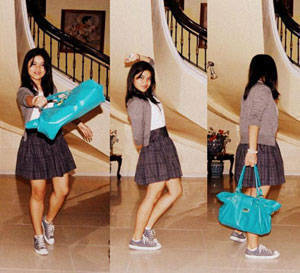 Curious about what they were like as UP students?
Usual floods will soon be a thing of the past.
Loisa's house garnered mixed opinions from netizens.
'Jowa, jowa, jowa.' --Teddie
And the role of Good Boy goes to...
They were once Green Archers.
South Korea's revised law will give pop culture artists a chance to delay their military service.
According to a new study.
"I love that I am trans. And I love that I am queer."
It's not just about your face shape!
From The Candy Bulletin Community