Name
: Tricia Gosingtian
Age
: 20
School
: Ateneo de Manila University
Hometown
: Manila
Random classic
. My style varies a lot depending on mood... which is somewhat random. Mostly, I stick to classics and monochromatic colors.
Top Love
. Topshop is my absolute love!
Fave Designers
. I have a lot of favorites like Alexander McQueen, Karl Lagerfeld and Betsey Johnson, but right now I'm really into Alexander Wang.
Statement piece
. A nice, quirky necklace. I've this certain habit of turning some toys that I have into pendants. And I like tote bags, for the strangest reasons.
Kawaii inspiration
. Japanese fashion magazines such as Popteen and ViVi.
Style icon
. Nicole Ritchie. She's so cute. I love her.
International appeal
. My parents loved to take me and my siblings to different countries and I guess I was able to assimilate the fashion culture of the places I've been to.
In her closet
. Lots of black, white, gray, and blue!
Never ever
. A short top paired with leggings. Camel toes look pretty nasty!
The fashionable 3
. Dark jeans, crisp white button-down shirts and classic cardigans.
Fashion is a cycle
. Cycling shorts, hahaha! I'm so curious how that would turn out.
Know of any stylish teens? Comment below.
ADVERTISEMENT - CONTINUE READING BELOW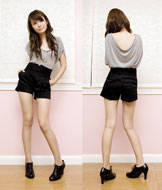 ADVERTISEMENT - CONTINUE READING BELOW