Name: Tin Iglesias
Age: 18
School: University of Santo Tomas (Fine Arts-Advertising Arts)
Hometown: Quezon City
Miss Capricious. Versatile and capricious. My style is usually dependent on my mood. I can wake up feeling French, Japanese or British. I am actually a whatever-suits-my-fancy-goes kind of person. I believe that dressing in a simple yet chic manner is the ultimate key to looking exceptionally good.

Shop attack! I shop almost everywhere! I love Zara, Mango, Topshop, and H&M. Aside from those stores, I also buy clothes and accessories from different bazaars, online shops, department stores, and thrift shops. I shop abroad, too—including Hong Kong, one of my favorite places in the world.

Favorite fashion designer. I personally love Marc Jacobs with his designs for his own line and Louis Vuitton! I also like Karl Lagerfeld! I admire him because of his amazing ability to produce such an immense variety of designs and structures, ideas and concepts, and splendor year upon year. Japanese designers like Rei Kawakubo and Yohji Yamamoto are also marvelous.

Outfit complete. Accessories! I usually accentuate my outfits with a pair of pearl or diamond studs, beaded or chain necklaces and head wraps.

Inspire me. My style inspiration comes from my natural desire to be creative and unique with what I buy and wear.

Style icon. Given the chance, I would raid the closets of Lou Doillon, Lily Donaldson, Agyness Deyn, the Olsen twins, Nicole Richie, Rachel Bilson, and Kate Moss anytime. Oh and I also look up to other Chictopians! (My Chictopia: http://www.chictopia.com/tiniglesias)

Style influenza. The places I have been to and the people I come across with everyday.

Closet colors. I love all colors equally. Mixing and matching is a personal choice, I create my very own style.

Never ever! You can never make me wear baggy clothes.
Stylish three. Things like suits, jeans, and a white blouse. Without these basic pieces, you have nothing to hang the trends on!

Trend comeback. Bandanas! It is one of those things that can help you in a variety of situations. Whether you want to manage your hair on a bad-hair day or just feel like carrying a funky look. You can use it as a scarf, head wrap, or even as an accessory for your bag!

Hand-me-down vintage. I absolutely love vintage bags! My mom gave me her Louis Vuitton, Ralph Lauren, and Liz Claiborne bags. I think those bags are as old as I am.
Know of other stylish girls? Post their links on the comment box below or post in TeenTalk.

ADVERTISEMENT - CONTINUE READING BELOW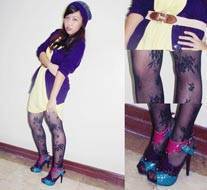 ADVERTISEMENT - CONTINUE READING BELOW