Name: Teena Sabrina Chua Tan
Age: 20 :|
School: De La Salle University - Manila
Hometown: Quezon City
Simplicity with a twist. My style depends completely on my mood, the weather (very important), and the place where I'm going to. I prefer wearing simple outfits with a bit of twists, adding a popping color to a black and white ensemble or accessories to complete the look. I like experimenting with my clothes. I just make sure every time I leave the house, I look neat and put together.

Shopping savvy. Anywhere, from ukay-ukay, department stores, tiangge, bazaars to Zara, Mango and Dorothy Perkins.:) I especially love Topshop, Forever21, The Ramp, and People are People. The important thing is it has to suit me well and of course, money's worth. I love shopping for one-of-a-kind items and authentic vintage clothes/bags since I know no one can have the exact same item. :)

Favorite Fashion Designer. I love love love Alexander Wang. He's so remarkable when it comes to reinventing basic pieces. I also like Christian Siriano because he's so creative. As for local designers, I adore Mich Dulce, Veejay Floresca and Sassa Jimenez. I consider them my idols and my inspirations.

Style Inspiration. Inspiration can be everywhere. Also I get inspiration from my friends whose got different styles and really amazing as well. And to stylish chictopians, one of them is camerafilmroll. She's really amazing and pretty. She can be added to my list of fave icons, too.
ADVERTISEMENT - CONTINUE READING BELOW
Stylish three. The perfect white shirt, little black/white dress, and comfy black flats.
Comeback trend. I would like to see the classic looks of Audrey Hepburn, Twiggy, Brigitte Bardot and Grace Kelly. So classic, feminine, polished looks that always always shouts elegance and beauty.
Vintage finds. Everything is from mom since I never got the chance to meet my lola na. I have bags from my mom, her signature bags are all old collections which I love more than current designer bags. I think they are about 25-30 years old or more? I also have some jewelry that's pretty one-of-a-kind. One piece she gave me that I always wear is the Movado watch. :)
ADVERTISEMENT - CONTINUE READING BELOW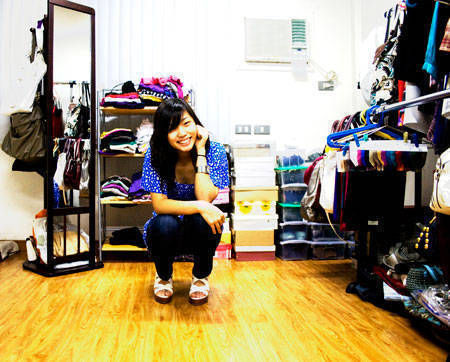 ADVERTISEMENT - CONTINUE READING BELOW