Name: Stephanie Clare Rojas
Age: 20
City: Quezon City
School: DLS-CSB
My style. I would describe my personal style as comfy but cute.
Shopping galore. I usually shop at the department store since they have more affordable stuff there. I also frequently go to Jellybean, Folded & Hung, Bayo, and many more. I also enjoy online shopping.
Style icons. I love Selena Gomez! She always looks so presentable. I like that her style is very laid back but still fresh. Also, she never sacrifices comfort, which is what I really love about her. I also love, love, love Mayo Wo's style when it comes to everyday dressing! It's a perfect mix of cute and classy.
Influenced. Media definitely influences the way I dress. But most of the time, my mood in the morning determines how I end up dressing. Basically, what I wear reflects how I feel or how I wanna feel for the rest of the day.
Bright closet. I really wish I owned more pastel clothes to go for softer looks, but my clothes are mostly in bold colors or shades.
Definite must-have. I always have lipbalm or lipgloss with me. I'm so addicted to them that my friends usually gift it to me for my birthday. Lipsmacker is my ultimate favorite! They don't let my lips chap, plus they smell and taste like candy too!
No way! Boots that go higher than my mid-calf , especially if they're heeled. I think they make me look a lot older. Also those kind of boots make me look shorter, which is the LAST thing I'd ever want.
Trendy return. Poodle skirts just like the ones in the 50's and in the movie, Grease! Although it would be better if they were a bit shorter. I think that would look so cute!
Bargain steal. A statement necklace for just P60 at Red Apple. It used to cost P120-200. I would say that was a great buy!
Precious vintage. My grandmother gave me her old earrings, but I don't wear them often because I'm too scared to lose it.
ADVERTISEMENT - CONTINUE READING BELOW
Do you want to be the next It Girl on The Web? Fill out the form here.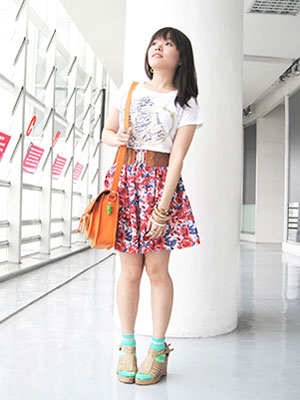 ADVERTISEMENT - CONTINUE READING BELOW