Name: Stephanie Joy Santos Macasaet
Age: 21
City: Makati City
School: Centro Escolar University, Makati

My style. It will always fall under the categories of casual, whimsical, and versatile. I love surprising people when I dress up that's why I do everything I can to be creative and unpredictable. I believe that dressing up is a form of self expression.
Shopping faves. Thrift stores! Most of my clothes are from thrift shops and I am often praised for being a good thrift shopper because my friends say that almost everything in my closet looks brand new!
Style icon. Emma Watson will always be on top of the list. I love how she still looks really stunning even if she's wearing something basic.
Style influence. Music, celebrity outfits, and local fashion bloggers like Patricia Prieto. She opened my eyes to dress up accordingly whenever I go out . I used to be so clueless when it comes to fashion.
Closet colors. I am all about the versatility, so most of my clothes are in black and white hues. I tend to be really picky when it comes to printed and colorful pieces because my mom always taught me to choose the right colors that matches my skin tone. Maybe that's why I only have a few colorful and printed pieces in my closet.
Fave accessory. Sunnies! It instantly transforms and completes an outfit even if you're not wearing any other accessories.
Never wearing. Sneaker wedges because they will never suit me.
Trendy comeback. Vintage fashion is always an interesting trend that I would really want to make a major come back!
Best bargain. A Little red dress that I scored from a thrift shop. It's very handy and comfortable actually. I can always rely on it whenever there's a "fashion emergency" of some sort.
Vintage loving. A vintage Longchamp bag that my aunt bought in Paris way back when my mom was still in her early 20s. It was used by almost every girl in my mom's family until the permanent owner, my grand mother, passed it down to us.
ADVERTISEMENT - CONTINUE READING BELOW
Do you want to be the next It Girl on The Web? Fill out the form here.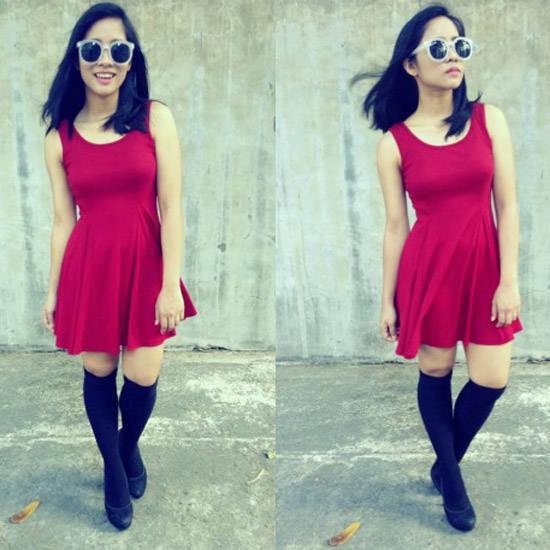 ADVERTISEMENT - CONTINUE READING BELOW