Name: Stephanie May T. Jarina
Age: 19
School: University of the Philippines (Cebu College)
Hometown: Cebu City, Cebu
Practical style. I try to find a common ground between fashion and comfort while injecting some influences and style inspirations that I would find in magazines, on televisions, from fashion blogs all over the world, and from dominant trends during the past decades. I don't go for the brand name or logos, unless they're really investment pieces. I'd like to think that I am very practical, fashion-wise. I work with what I already have. I wear what I want and just consult very few friends about how I look.And as much as possible, I dress comfortably since I commute everywhere I go. :)

Favorite fashion designer. Internationally, I like Hannah McGibbon, Karl Lagerfeld, Alexander Wang, Stella McCartneym Alexander McQueen and Kristian Aadnevik. In the local scene, it would have to be Mique Yapching, Joey Samson, Ivarluski Aseron, Cary Santiago and Arcy Gayatin. :)

Style icon. Alexa Chung. She looks great and effortlessly cool no matter what. Kate Moss. She can pull off even the most impossible looks and outfits. Kate Lanphear. She looks so damn cool. Carine Roitfeld. She wears cool clothes and dresses appropriately to her age. Miroslava Mikheeva-Duma. She looks so young, spontaneous and chic at the same time! :)

Style influence. Rumi Neely of www.fashiontoast.blogspot.com. She started out as an ordinary girl in the blogosphere and now she's one of the most fashionable girls that stays a cut above the rest with her carefree style. :)

Color coded. Black, white, gray, blue and some shades of pink. But in terms of prints, I love zebra stripes and leopard spots. :)

Change of heart. Never say never. :) Back in high-school, I swore I'd never wear what the mean girls in the movie The Mean Girls would wear, but I now I'd gladly do so, but with sophistication. :)

Stylish 3. Black ballet flats, black Chanel 2.55 and fire-engine red lipstick.

Make a comeback. Grunge style from the 90's and sophisticated style in the 1960's. Both are from different ends of the spectrum but they have such distinct styles that are definitely attention-grabbing and very influential.

Vintage finds. What is it and how old?Yes. Some of the treasures that I found are crocheted dresses and floral vests. I try to pull them off by combining them with something trendy and modern.
ADVERTISEMENT - CONTINUE READING BELOW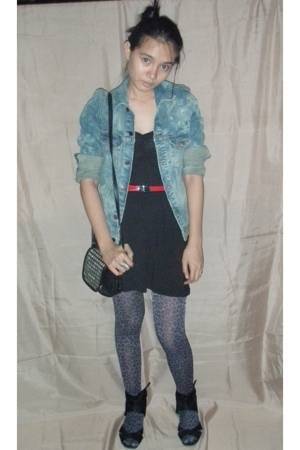 ADVERTISEMENT - CONTINUE READING BELOW