Name: Saskia Sacro
Age: 18
City: Paranaque City
School: De La Salle University

Boho style. I'm all about expressing my personality with the way I dress. The bohemian style captures the essence of my personality. It's carefree, laid-back, and its funky look is very easy to mix and match, making it my signature style.
Shopping musts. I usually shop at Forever 21, SM GTW, and Stradivarius. I usually find the most bohemian elements in thrift shops.
Style icon. I look up to Vanessa Hudgens because she carries the bohemian style effortlessly. I can really relate to her style of dressing up.
Style influence. My Mom who was born in the in the 1970's.
In my closet. You can find earth-tone fabrics, neutrals and some pastel colors for accents.
Accessory fave. My favorite accessories would be my turquoise bracelet and gold brown bangles from Mumbai, India. It both goes very well with any of my outfits.
Never wearing. I will never be caught wearing an all leather outfit on a hot day!
Trendy comeback. That's easy, the '70s! It's an era that represented free expression. Their clothes had very little restrictions, allowing your imagination and expression to go hand in hand. That kind of attitude is what we need nowadays.
What a steal. My south american inspired poncho, which I had for a bargain!
Vintage loving. My mom's polka-dot maxi skirt and top inspired by the movie, The Pretty Woman. It was given to her by my Dad when she was still 18 years old.
Do you want to be the next It Girl on The Web? Fill out the form here.
ADVERTISEMENT - CONTINUE READING BELOW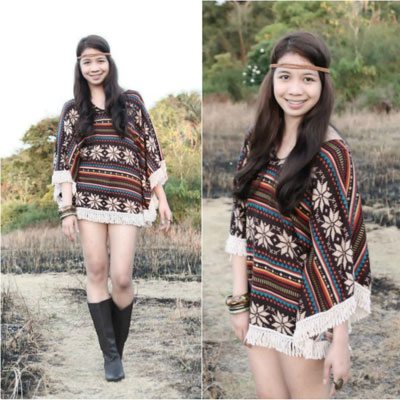 ADVERTISEMENT - CONTINUE READING BELOW