Name:
Rosanna Aranaz
Age:
21
School:
ADMU
Hometown:
Manila
Stylista. My style is a bit quirky.
Shop `til she drops. I usually shop at Topshop, SM Department Store, Zara, the Landmark, and ukay ukay.
Favorite Fashion Designer. Lately, I've been loving Alexander Wang.
Never leave home without it. A nice bag and sunglasses! I'm obsessed.
Always inspired. Other fashion bloggers, movies, music, street styles, celebrities/
Style icons. I hate to admit it but i love The Olsen Twins.
Influences. My mom and my sister. They're really the ones who introduced me to fashion. :)
Closet color palette. A lot of black, whites, grays with random pops of color.
Caught in the act. I'd never be caught wearing kitten heels.
In style. Three things that would never go out of style: jeans, a black blazer, and the perfect white shirt.
Return of the pads. One trend I'd like to make a comeback: shoulder pads. :D
Old-fashioned hand-me-downs. I have a couple of my mom's sunglasses, bags, and belts back from the '80s. My grandma gave me some of her old jewelry from when she was younger!

What do you think of her style? Know of other stylish teens on the web? Comment down below!

ADVERTISEMENT - CONTINUE READING BELOW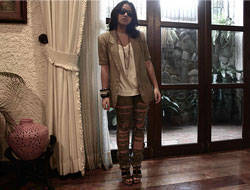 ADVERTISEMENT - CONTINUE READING BELOW