Name: Rizzane Ong
Age: 23
School: UST Interior Design '08 graduate
Hometown: San Juan City
 

Edgy with a twist. My style is often girly and cute but sometimes with an edge. I pick out garments with that extra something like bows, chains and lace as embellishments.  I usually start with a piece of clothing or accessory and then I just mix and match to compliment it. I'm often mistaken as a high school student so I try to tone down the cute factor I'd normally pick. =)
Store preference. I shop anywhere as long as I see something I like. I'm not brand conscious and would often be seen frequenting department stores and the usual, Topshop and Zara. Whenever I get the chance to travel abroad, I make it a point to shop at their local stores for pieces I know I can't get here. I love bargains too and would like to try ukay-ukays someday.
Fave fashion designer. Betsey Johnson! Her designs are always bold, feminine, quirky and whimsical!
Always part of the outfit. Accessories! They make any outfit look more put together. I feel incomplete without them.
Inspired. I get inspired by people who have their own distinct style and are not afraid to express themselves through it, like Susie of the Style Bubble.  I regularly read fashion blogs and magazines for trends and ideas. I have folders in my laptop where I keep photos of clothes and outfits I like or would like to try someday. 
Asian style. I don't have one but I'm fascinated with Asian street fashion from Korea, Japan and Taipei. They dress according to their whims, fearless, and carry them with style and confidence.
Style influence. I've always had a love for design and the arts. I spent most of my childhood doing crafts and playing dress up. I believe that's where my love for color and embellishment started. I wore uniforms to school 'til college and it was just last year where I was really able to embrace my freedom. I entered fashion school and it helped boost my confidence. I dressed according to what I think looks good on me and what I felt comfortable in. I guess all the years of wearing uniforms heightened my desire to find my style and stand out.
Closet palette. My closet's very colorful but It's slowly filling up with blacks and grays.
Never seen with... Sunglasses indoors and at night time. So not cool! Unless if you have some severe eye condition.
Stylish three. Classic neutral pumps, pearl or diamond stud earrings and great fitting undergarments.
Make a comeback. I love dresses from the 50s and I hope to see them more in stores! They look so tailored, feminine and classy.
Vintage owns. My mom kept a lot of accessories, belts and hair clips from her teenage years. I've been wearing her old stuff since grade school. It's amazing how most of the pieces are older than me yet they look brand new. I'm currently obsessed with her metal belts and this faux ivory necklace with random charms. They're versatile pieces and I hope I can keep them in the same condition to pass it on someday.
Know other stylish girls? Post their links on the comment box below or post in TeenTalk. 

ADVERTISEMENT - CONTINUE READING BELOW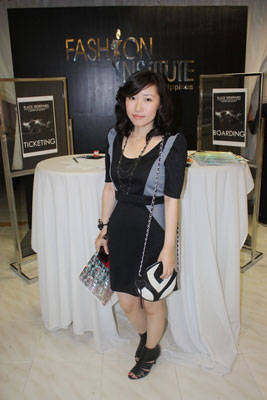 ADVERTISEMENT - CONTINUE READING BELOW